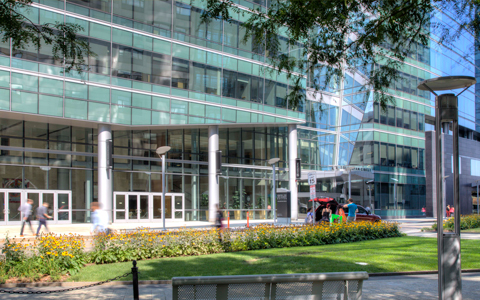 For several decades, dense urban areas like New York City and Washington, DC, have experienced significant growth and development in the life science sector. Greater Boston and, more notably, Cambridge have long been the epicenter for life science companies looking to establish roots in Massachusetts, and the trend is expected to continue. With revered institutions like Harvard and MIT, and a robust presence of financial firms, Boston has proven to offer a strong and appealing foundation for bio-tech companies.
Boston-Cambridge is home to more than 500 life science companies, with another 100 in the surrounding Greater Boston area. According to a 2020 CBRE life science report, space in Cambridge is at capacity, leaving a mere 1.5 percent vacancy rate. With space running out and the continued desire for existing and startup bio-tech firms to be a part of the Boston-Cambridge life sciences synergy, expanding and newly forming bio-tech companies are seeking out any remaining space in Boston's Seaport and Kendall Square. But it is the towns surrounding Boston and Cambridge that are becoming a more alluring option.
With proximity to Boston and the strong infrastructure it brings, surrounding towns like Watertown, Lexington, and Waltham offer lower rent and available space. They also make possible the co-location these firms desire to the educational and bigger firm resources that exist within what has become the mecca for life science entities – Boston-Cambridge.
VHB, headquartered in Watertown, has cultivated strong relationships and project experience with the Town over the years and is partnering on several Watertown and East Watertown projects with developers like Alexandria Real Estate Equities, Leggat McCall Properties, National Development, Greatland Realty Partners, IQHQ, Boston Properties, BioMed Realty, Boston Development Group, and Spear Street Capital. Spear Street Capital is adding another life science center to Watertown's growing collection, with the renovation of the Tufts Health Plan building.
"Watertown is attractive to bio-tech companies due to its proximity to Boston, and the collaboration created by a rapidly emerging life sciences hub," said Rich Hollworth, PE, Regional Service Leader, Land Development. "Many have a heavy focus and interest in creating outdoor spaces to compliment the indoor space, making Boston's outlying suburbs an attractive option."
To learn more about VHB or the life science projects we are working on, please contact Rich Hollworth at rhollworth@vhb.com, or visit our Biomedical Research Page.