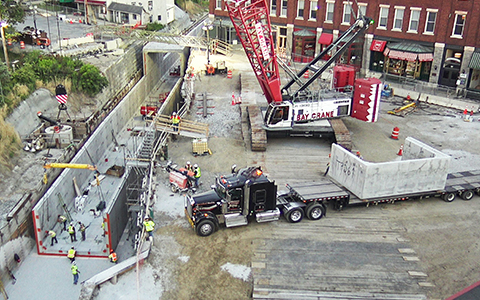 Originally constructed in the 1840s, the Vermont Railway winds through the bustling downtown of Middlebury, Vermont, splitting the downtown and Town Green area in half. Two bridges that spanned the 20-foot-deep rail corridor, with a service life already exceeding 100 years, had deteriorated to the point where their structural integrity was threatening safety for vehicles, bicyclists, and pedestrians above, and the operation of the railroad below. The railroad corridor had also been plagued by drainage issues, poor track conditions that contributed to a 2007 train derailment, and vertical and horizonal clearance restrictions.
Because of its location and the constant road and rail traffic, the project was going to be a challenge and the need for speed was critical. As lead designer, VHB ushered the project through all phases of public outreach, permitting, design, and construction inspection. The Middlebury Bridge and Rail project was recently recognized by the 2022 PCI Design Awards program.
To pull off the accelerated construction period required years of preparation, including negotiation of the first of its kind train detour allowing Vermont Railway to operate over a competitor's line. The project also constructed a new drainage system by microtunneling through solid rock 30 feet below grade and included a number of significant mobility accommodations throughout town, allowing for continued access to downtown and its businesses while construction raced forward.
"We knew that working around the railroad schedule was going to be a challenge," said Aaron Guyette, Transportation Lead for VHB. "Accelerated bridge construction (ABC) using precast concrete was the perfect solution to keep the project on schedule."
This is the largest Vermont Agency of Transportation (VTrans) infrastructure project to date that takes place entirely within the National Register-listed Middlebury Village Historic District. It increased the vertical clearance for the railroad by more than three feet by excavating downward, while maintaining the existing roadway profiles and avoided impacts to the adjoining sidewalks and historic buildings.
Working on a 24/7 construction schedule over 10 weeks, tens of thousands of cubic yards of soil and bedrock was excavated; 422 individual pieces of precast concrete fabricated in New York were assembled; 3,500 linear feet of railroad track, cross ties, and ballast was rebuilt; and both Main Street and Merchants Row were reconstructed, including new sidewalks and lighting.
The 2022 PCI Design Awards program, which recognizes design excellence and construction quality, helps the design and construction community innovate and advance by showcasing ideas that push the envelope, overcome challenges, and improve upon existing concepts. VHB will be recognized on March 4 at the 2022 PCI Convention in Kansas City, Missouri.
Read more about the project or contact Aaron Guyette for more information.