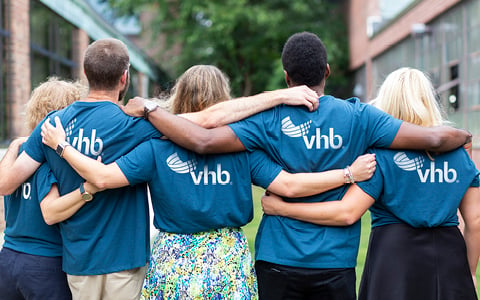 VHB has been named a finalist for the National Association of Corporate Directors (NACD) Diversity, Equity, and Inclusion Awards. This prestigious honor recognizes companies that have demonstrated a commitment to advancing DEI in corporate governance practices and culture. The finalists were announced in this NACD press release and five winners will be announced at the NACD Summit in October.
Diversity is one of the core values that guides VHB as a company. Embracing and fostering DEI is deeply embedded in the firm's culture. One of the outcomes of being intentional about incorporating DEI throughout all that we do was the formation of a DEI Steering Committee with Board representation in 2020. This was an important step along VHB's journey, and it has helped us continue to advance our DEI initiatives with an increasing level of actionable plans focusing on areas including culture, recruiting, clients, and the industry.
VHB is dedicated to providing employees with an environment where they feel welcome, respected, and valued, and everyone is provided opportunities to drive and develop their careers. Some of VHB's recent DEI advancements include an enhanced parental leave policy and enhanced benefits for families offering maternity/family support. We continue to offer Unconscious Bias Awareness Workshops to all employees, and other learning opportunities and awareness months are promoted in partnership with our Employee Resource Group VHB IDEAL (Inclusion, Diversity, Equity Alliance). In 2022, we developed Guiding Principles for Attracting and Hiring Talent at VHB. Learn more about VHB's DE&I efforts.
VHB Chair & CEO Mike Carragher shared, "I'm incredibly proud of the work we have done to advance DEI at the Board level, within our DEI Steering Committee, and across VHB. I'm inspired by our unwavering dedication, and I know that together we will keep learning and improving—our efforts have no end date."
VHB is the only firm in our industry that is a NACD DE&I Award finalist in the privately-owned category.
NACD is the premier membership organization for board directors who want to expand their knowledge, grow their network, and maximize their potential.