The NC State Integrative Sciences Building began construction this spring to bolster the University's science, technology, engineering, and mathematics (STEM) offerings. With a growing demand for qualified STEM graduates, the building will provide biology, chemistry, biochemistry, and biotechnology majors more opportunities for learning and collaboration. As a partner to ZGF Architects and Moseley Architects, VHB is providing a full suite of integrated services to help the University fulfill their long-term vision and commitment to advancing STEM education.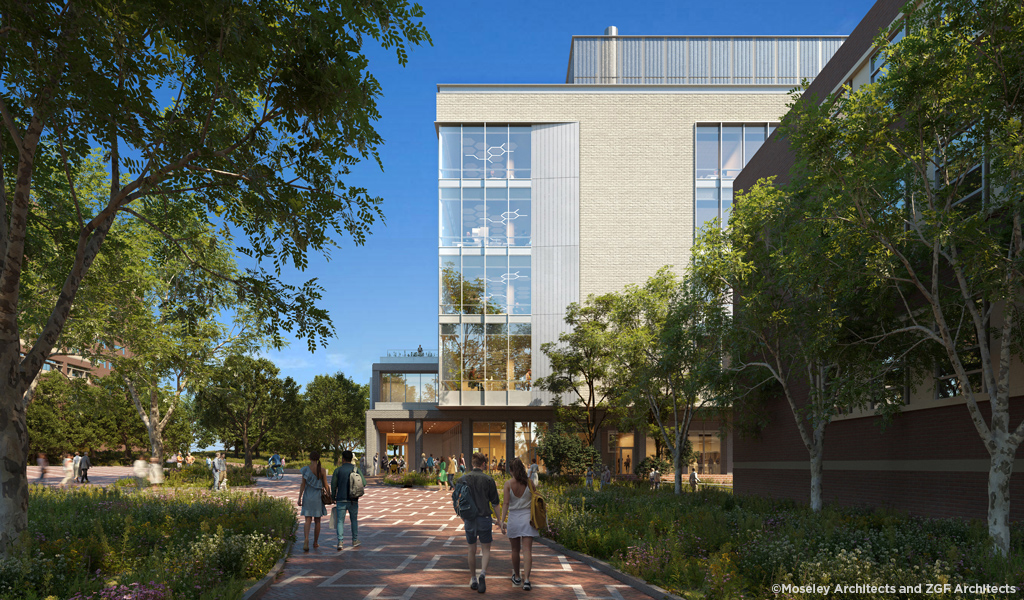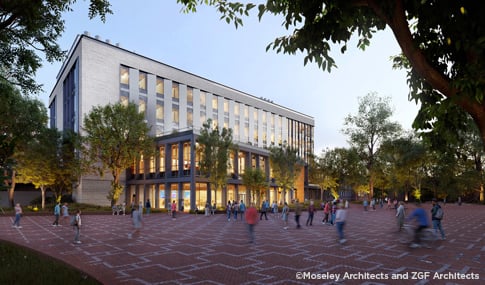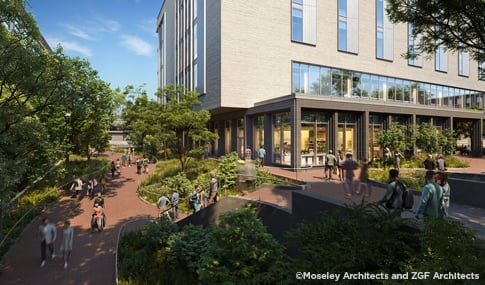 Located at the center of North Campus near NC State's popular Brickyard plaza, the new Integrative Sciences Building will connect to the existing science building, Polk Hall, and sit adjacent to Dabney Hall and Cox Hall. These cluster of buildings will represent a hub for science, innovation, and technology, and provide teaching and research space to broaden educational experiences and offer real world scenarios to support their curriculum. VHB leveraged big data to analyze movement patterns of people across this specific area of campus. This information played a critical role in guiding strategic design choices aimed to optimize circulation throughout the site and to foster seamless connectivity between the new building and neighboring buildings.
After the demolition of Harrelson Hall on the site in 2016, and in combination with decades-old infrastructure, the site and surrounding buildings experienced an increase in flooding after major storm events. Parking lots became unusable, and water flowed toward the entrances of buildings, making them challenging to access. As part of the design, VHB's water resources team developed an innovative solution to eliminate flooding on this section of campus that aligns with the University's sustainability goals. VHB also provided environmental, survey, civil engineering, and campus mobility services to create campus conditions where students can thrive. The building is anticipated to open in 2026.
VHB works with colleges and universities across the United States to enhance their STEM programming as the workforce demand continues to rise. In addition to the Integrative Sciences Building on NC State's campus, VHB provided survey, site engineering, water resources, and environmental services for Old Dominion University's Chemistry Building that opened in 2021, Norfolk State University's New Science Building that is anticipated to be complete in 2023, and ODU's New Biology Building that is anticipated to be complete in 2026.
To learn more about our experience with college campuses across the East Coast, visit our Higher Education page.