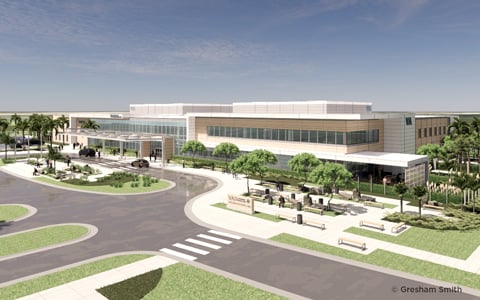 Veterans in Polk County, Florida, will soon have access to a state-of-the-art new healthcare facility that consolidates critical services for patients throughout Central Florida. VHB landscape architects, civil engineers, and planners will play a vital role in the landmark new 133,000-square-foot, two-story James A. Haley Veterans' Hospital Community Based Outpatient Care (CBOC) clinic in Lakeland, a replacement building for the current U.S. Department of Veterans Affairs facility located near the Lakeland-Linder International Airport. The modern new outpatient facility consolidates and expands existing Veterans healthcare services in the region and is expected to serve more than 23,000 Veterans when it opens in fall 2023. VHB's integrated approach considers how healthcare facilities impact the patient, the patient's support team, the environment, and the community.
The new medical clinic will provide an expanded suite of support including audiology, eye care, mental health services, physical therapy, prosthetics, laboratory and pharmacy, radiology, and women's health. VHB was brought in early to provide preliminary site planning support, entitlements, FEMA floodplain map changes, and environmental surveys for endangered species and wetlands. Additional services provided by the team are helping move the project forward and include stormwater management, utility services, transportation planning for connectivity, and landscape architectural design for the clinic grounds.
VHB's approach to the site prioritizes Veterans and their support team. From the orientation of the entry drive to the layout of parking rows, close attention is paid to natural wayfinding that will help a visitor understand how to access the facility. Pedestrian spaces in development include:
A Flag Plaza honoring Veterans upon arrival at the main entry and drop-off loop. The colorful, drought tolerant plantings and Ribbon Palms bring a touch of nature at the front entrance and intermixed seating offers places for rest and reflection.
A Healing Garden allows Veterans and caregivers to decompress in a natural setting. Shade, color, and texture in landscape plantings enhances the micro-climate and support a restorative experience. Additional elements include bubbler fountains in pots with a mixture of textured material. The garden walkway features light colored paving and areas to rest in the shade.
A Rehabilitation Courtyard where physical and occupational therapists work with Veterans to strengthen their ability to navigate real-world exterior conditions. The space includes a variety of site furnishings and walkway surfaces such as concrete, gravel, and grass, and components such as ramps, steps, and handrails.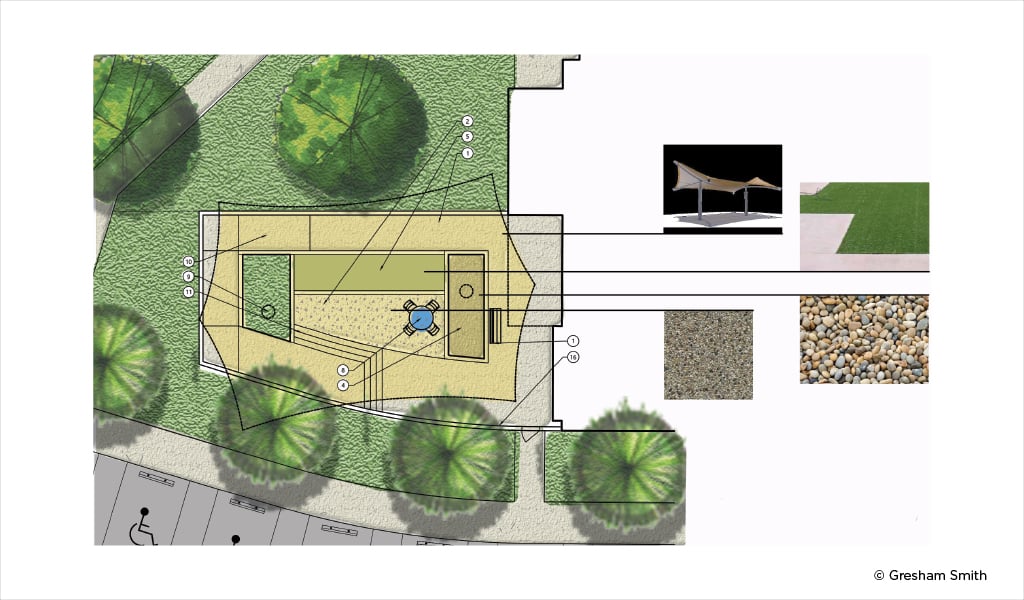 "The Healing Garden is designed to provide relief from clinical settings, which can be stress-inducing for patients, families, and caregivers, especially with the additional stressors that COVID-19 has put on people seeking medical care," said Ivy Clinton, Senior Landscape Architect.
The Rehabilitation Courtyard is an open-air clinical space that supports and is connected to the indoor Physical Therapy and Rehabilitation Clinic. The Courtyard congregates outdoor obstacles Veterans may encounter post-rehabilitation into one environment where they can practice maneuvers like walking on different surfaces, getting up from benches, and using handrails on ramps.
"It's an important extension of the rehabilitation machinery and modalities used indoors," said Clinton. "Moving through this space will help ease patients' anxiety about outdoor encounters and help prevent future falls or injury."
Additional landscape planning and site design provided by VHB includes arrival sequencing, bus service accommodations, pedestrian and vehicular traffic flow, enhanced landscaping, bioswales, outdoor dining, and employee gathering spaces.
The Molasky Group of Companies is the project developer, Gresham Smith is the project architect and The Korte Company is the design-build contractor. Learn more about how VHB is transforming the healing environment via our Institutions Practice.