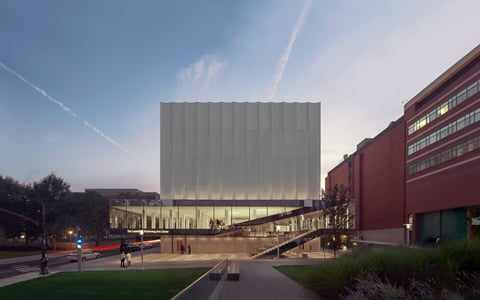 In partnership with Brown University, VHB helped bring to life the new 92,000-square-foot Lindemann Performing Arts Center on the College Hill campus. This addition is designed to nurture creativity, offering state-of-the-art performance and rehearsal spaces, and is set to become a vibrant hub for students to explore and express their passion for music, theater, and multimedia arts.
Situated at the northern end of "The Walk", a picturesque pedestrian corridor and greenspace connecting Simmons Quad and Meeting Street, this facility is the realization of a long-held vision by Brown University. Through the construction of the new Lindemann Performing Arts Center, students and faculty have gained a campus facility that will inspire them to pursue their interests and create a more personalized educational journey, setting the stage for their future success.
Using Integrated Project Delivery (IPD), VHB served the role of site cluster leadership, collaborating with Brown University and the design and construction team from the project's inception to its completion. Risks and rewards were skillfully navigated as a team, making collective decisions that led to the project's resounding success.
The VHB team maneuvered through a complex maze of regulatory entitlement requirements, design challenges, and environmental obstacles to bring this project to fruition. The former public way of Olive Street was also transformed into a campus corridor, creating a functional and welcoming environment for students, faculty, and staff.
The grand opening of the facility was marked by a series of celebrations over the past month, culminating in an inaugural concert this past weekend. The campus was abuzz with excitement over productions by the Brown University Orchestra, Brown University Chorus, members of the Providence Singers, and a special guest performance by Itzhak Perlman.
VHB is proud to have played a pivotal role in this remarkable project and extends its warmest wishes to Brown University for many years of inspiring performances and promotion of the arts in this groundbreaking facility.
To learn more about this project, contact Jon Stabach.