Recently the Biden-Harris Administration named 162 projects that will receive funding through the USDOT's Rebuilding American Infrastructure with Sustainability and Equity (RAISE) program, including eight VHB supported community-led infrastructure projects. Read about these community-focused projects that will improve safety, sustainability, economic growth, and active transportation.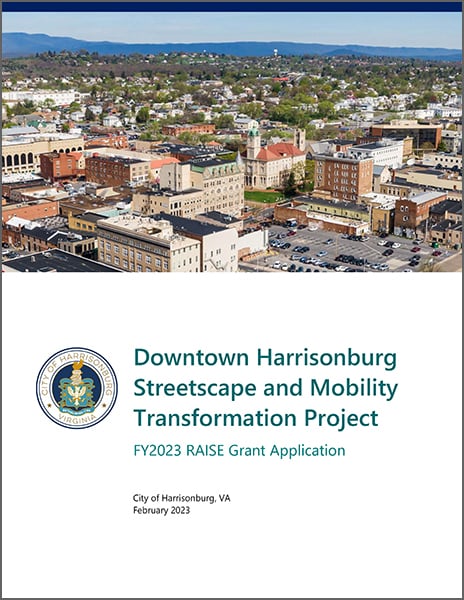 Downtown Harrisonburg Streetscape and Mobility Transformation Project | City of Harrisonburg ($14.3M)
Harrisonburg, VA
The transformation project will convert a lane of US-11 to a two-way separated bicycle facility and a new shared-use path along Main Street, with additional pedestrian, bicycle, and intersection improvements. The enhancements will increase safety throughout Harrisonburg, and provide affordable transportation options, increase active transportation, and promote mobility and community connectivity.
Eastern Trail Expansion: North Berwick, Wells and Kennebunk |
Maine Department of Transportation ($4M)
York County, ME
Funding will support the construction of an approximately 2.7-mile off-road trail, providing a protected trail and connection for bicyclists and pedestrians. As an expansion of the Eastern Trail in Southern Maine, the trail will promote active transportation, link employment and affordable housing opportunities, improve connectivity between North Berwick, Wells, and Kennebunk, and promote tourism amongst the communities.
General Sullivan Bridge Bicycle and Pedestrian Crossing |
New Hampshire Department of Transportation ($20M)
Rockingham and Strafford Counties, NH
The new superstructure will replace the historic General Sullivan Bridge that closed in 2018 providing a vital bicycle and pedestrian pathway across Little Bay. The path will provide a link between the Newington and Dover communities and a regional transportation network. The dedicated crossing will provide additional transportation choices and enhance economic activity within New Hampshire's seacoast communities.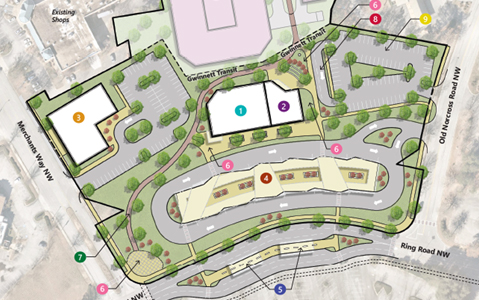 Gwinnett Place Transit Center |
Gwinnett County ($20M)
Gwinnett County, GA
The existing Gwinnett Place Transit Center will be replaced with a modern transit hub, a two-story building to support the expansion of transit services countywide. In addition to leading the grant application, VHB worked with Gwinnett County to develop the concept for the new Transit Center. The award will significantly elevate transit in Gwinnett County and contribute to transit expansion and mobility across the Atlanta region.
North Windham Moves | Maine Department of Transportation ($25M)
North Windham, ME
The reconstruction of 1.6 miles along US 302 in North Windham, located in Southern Maine, will increase traveler safety, provide affordable transportation options, and modernize existing core infrastructure assets of the community. In addition to the improvement efforts on US 302, the project will include three new connector roadways and improvements to State Routes 35 and 115.
Right-Sizing Route 37: Improving Community Connectivity |
Rhode Island Department of Transportation ($25M)
Kent and Providence Counties, RI
Substantial improvements of Route 37 will address multimodal, safety, and future transit needs through the replacement, rehabilitation and decommissioning of bridges along the route, replacement of an overbuilt loop-ramp, a transit structure, Transit Signal Priority at multiple locations and queue bus jump lanes, and a new separated bicycle path.
Safer Access for Everyone | North Carolina Department of Transportation ($8.6M)
Lumberton, NC
The $11M safety-focused street improvements along 2.1 miles of 2nd Street, a prominent road dissecting the City of Lumberton will feature two roundabouts, extensive pedestrian and intersection safety improvements, roadway reconfiguration, and culvert/drainage improvements. The funding will be utilized for project construction engineering, right-of-way, environmental documentation, and construction.
WALK NC: Creating Safer Crossings | North Carolina Department of Transportation ($9M)
Various Locations, NC
The state-wide program will introduce pedestrian safety improvements in 15 communities across North Carolina with poor pedestrian safety records. This program will add pedestrian countdown signal heads, crosswalks, and accessible routes at signalized intersections while also featuring signal timing improvements. The estimated $12.3M plan will provide additional transportation choices, increased accessibility, transit options, and economic opportunities for these rural communities.
To learn more about the RAISE program, the many local, regional, and federal grant programs available, and how VHB can help, contact our Transportation Market Leader, Steve McElligott.