To provide the most efficient, cost-effective services possible for its customers while responding to growing demand for packaging, Rand-Whitney, a Kraft Group company, celebrated their new state-of-the-art manufacturing facility in Boylston, Massachusetts, with a ribbon cutting ceremony on May 18. Representing Rand-Whitney's largest investment in equipment and capacity, the world class, sustainable building will feature the industry's most efficient robotics and automation equipment. The facility will produce 2.2 billion square feet of corrugated packaging each year, with nearly all of it using 100 percent recycled material and recycled water.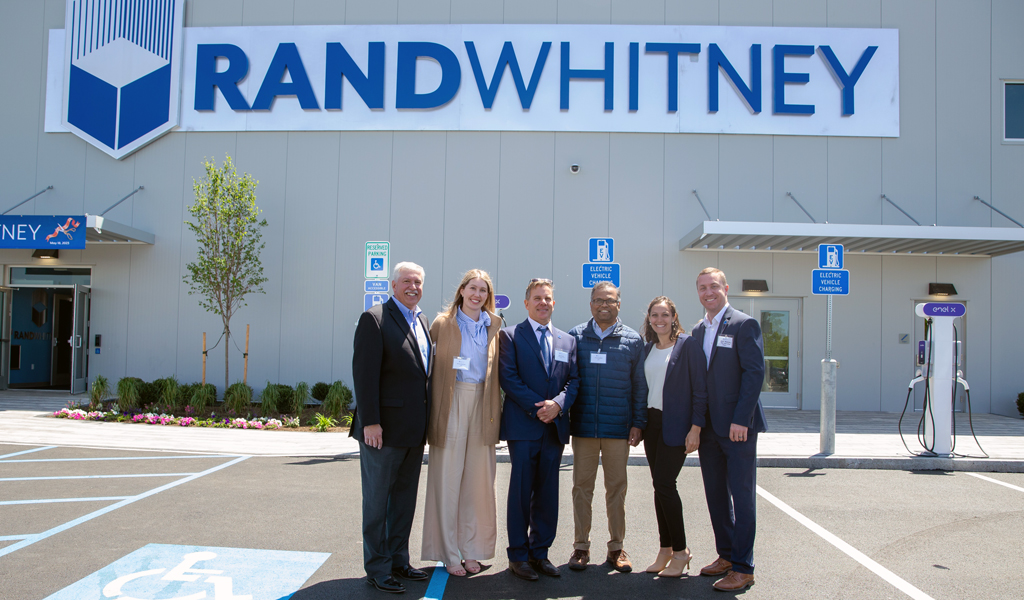 "This milestone represents an exciting moment in the history of our company," said Nick Smith, President and CEO of Rand-Whitney, in a statement for the Worcester Business Journal. "Rand-Whitney Container remains committed to investing in improvements that will benefit and support our valued customers. Today is also a milestone in our partnership with the Boylston community and we look forward to being a big part of this community for decades to come."
Event attendees included Robert and Jonathan Kraft, Massachusetts Governor Maura Healey, Massachusetts State Senator Robyn Kennedy, Massachusetts State Representative Meghan Kilcoyne, and Massachusetts Secretary of Housing and Economic Development Yvonne Hao.
VHB has been an essential partner in the project since 2017, providing due diligence, survey, design, permitting, and construction-phase services for the 61-acre site, inclusive of the 384,000-square-foot packaging facility. Additionally, another 297,000-square-foot warehouse is expected to be completed on site in spring 2023, which will be leased to Unified Global Packaging Group, a joint venture with Rand-Whitney Container.
"It has been an honor to work alongside Rand-Whitney and The Kraft Group while contributing to such an exciting development for Rand-Whitney and the Town of Boylston," said Brittany Gesner, Director of VHB's Worcester Land Development group. "This project and site came with a unique set of challenges and opportunities which required all team members to collaborate consistently and creatively throughout the process. The end result is truly remarkable, and I congratulate the entire team!"
VHB event attendees included Brittany Gesner, Vinod Kalikiri, and Annie Gorman.
Rand-Whitney has been a leading innovator in the packaging industry for over 75 years and is a member of The Kraft Group companies. VHB has partnered with The Kraft Group over the past 17 years on several remarkable developments throughout New England, including at Rand-Whitney's headquarters in Worcester, Massachusetts, and Patriot Place, a mixed-use center adjacent to Gillette Stadium in Foxborough, Massachusetts.
To learn more about this project, or VHB's industrial development experience, contact Brittany Gesner.