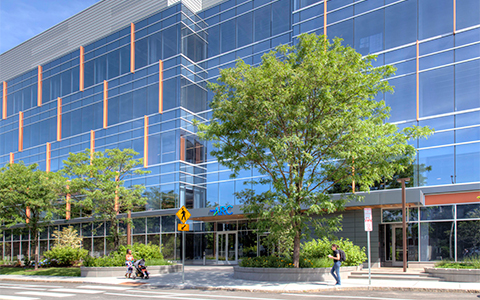 VHB hosted a Real Estate Roundtable with industry leaders to share market insights and discuss the opportunities and challenges related to property acquisitions, dispositions, and repositioning in today's market.
The discussion benefitted from the vast knowledge base of real estate panelists, including prominent developers of mixed use, multifamily residential and retail assets, major capital markets and private equity firms, the head of commercial real estate financing for a leading national bank, and attorneys advancing complex development projects.
While COVID-19 has presented the commercial real estate market with significant challenges, the panelists were optimistic and using a long-term lens to evaluate opportunities and to continue to make strategic investments in their assets.
Right now, there is plenty of market capital and development activity. Business is strong and continued investments are being made in high quality real estate assets across multifamily, industrial, and office sectors in core as well as secondary and tertiary markets.
The hospitality and retail sectors remain the hardest hit and owners have had to aggressively pivot and adapt operations. In the past seven months, the pandemic has emphasized the weaknesses that already existed with mall and shopping center retail and accelerated trends, such as omnichannel strategies, which were gaining momentum.
Key Trends and Takeaways:
Occupancy in the urban core is down 8%, while occupancy in the suburbs has held firm and rents have gone up. There is a momentary trend acceleration to move to the suburbs, but many believe that cities and urban areas will bounce back. Some residential developers are offering 2-3 months of free rent to secure tenants.
Multifamily developers are rethinking new communities and incorporating amenities that are found in an urban setting. More emphasis is being placed on lifestyle, sustainability, and health and wellness. Developers are also integrating technology platforms to measure the health of the environments and improve residents' quality of life by providing them with a seamless and convenient connection to the services or programs offered within a community.
Office space will be reimagined. End users continue to invest in high quality corporate campuses and workplaces that are an extension of their brand. "Groundscrapers", low-rise buildings with deep floor plates, are being viewed as desirable during the pandemic as one company can lease an entire floor and have flexibility in space planning and functional use. These developments are designed with multiple points of entry and employees can access their floors via stairs, which minimizes elevator use for vertical travel, and keeps personal interaction low.
The pandemic has accelerated e-commerce, which is driving demand for industrial product, including logistics, fulfillment, and last mile facilities. Investments are being made in ground up facilities and existing assets are being evaluated for redevelopment. Mall owners are working with municipalities and regulatory officials to evaluate zoning codes and the conversion of empty anchor stores for industrial uses.
Cities, counties, and municipalities are approaching retail center owners and discussing redevelopment opportunities. Discussions are focused on the right size for retail and how the retail mix will support new community centric uses including medical office, residential units, and smaller format grocery stores.
COVID-19 has accelerated many trends in the real estate market and challenged us to think about the long-term implications that could lead to structural shifts in the market. Real estate owners, operators, end users, employees, and consumers are re-evaluating how they live, work, play and shop for goods and services. Companies want to create workplaces that are an extension of their brand and enhance their culture, people want to travel and recreate, consumers want to shop and dine with their friends, and there is a strong push to reimagine shared spaces in communities to drive connectivity and engagement.
Read about VHB's other Virtual Roundtables with thought leaders across the A/E/C industry, including in the transportation, higher education, and energy markets, on Viewpoints.