Last month, a volunteer working group, including several VHB team members, presented a conceptual streetscape development proposal for the Jackson Heights/Elmhurst 82nd Street Partnership as part of the Urban Design Forum and Val Alen Institute's Neighborhoods Now Summit. The presentation highlighted the team's phased approach to assist one of the neighborhoods hit hardest by the COVID-19 pandemic. The working group of architects, engineers and other consultants developed a plan that enhances Diversity Plaza, a public open space. A major component of the program was to help local restaurants take advantage of new opportunities for socially distant outdoor seating as part of New York City Department of Transportation's Open Streets program, part of the City's response to aid struggling businesses during COVID-19.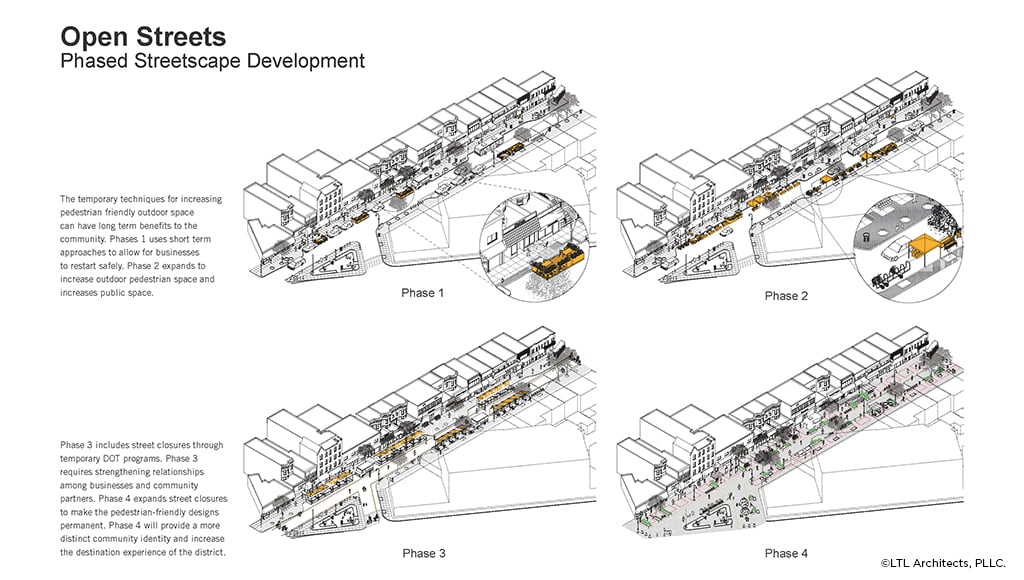 The team's phased approach had both short- and long-term implications. Near-term, restaurants and businesses can reopen with safety procedures in mind while expanding to increased outdoor pedestrian and public space. In the long-term, the team sought to strengthen the relationships among businesses and community partners in designing more permanent solutions to pedestrian-friendly options. Overall, the project's goal is to give the local community a more distinct identity and create a destination for its residents.
"Having lived there for 12 years, I can say the Jackson Heights neighborhood is packed with fantastic places to eat and shop, serving one of the most diverse communities in the country. The neighborhood is so vibrant, but during the pandemic its culture was stifled," said David Quart, Northeast Real Estate Market Leader. "Our team worked with the 82nd Street Partnership and other stakeholders to create and improve public space and help the community emerge stronger than before. Our goal was to give the neighborhood a sense of what is possible, not only to recover from the pandemic but in planning for a more equitable and just future."
The VHB Team included Diane Xiao, Erik Metzger, Marty Taub and David Quart. This group identified strategies, processes and approvals to allow the visionary street changes the team proposed to either move forward or evolve to meet the requirements.
"We're grateful to organizations like the Urban Design Forum and Van Alen Institute for the opportunity for our team to volunteer in this way and help a community in need during these challenging times," said David.