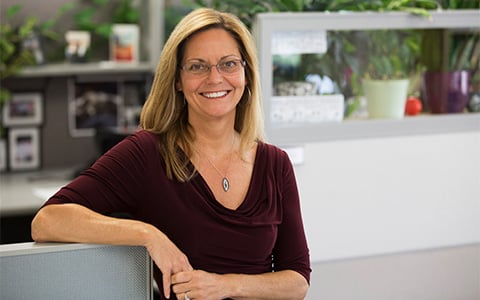 As VHB continues to focus on growing its prominence throughout the state of Connecticut, Robin Bousa has been named Managing Director of the Wethersfield office. In this role, Robin will be dedicated to leading the development and implementation of the office's growth strategy, overseeing complex projects, and managing the growing team of 60 members who provide civil engineering, transportation planning and design, and environmental services for projects across the state.
A leader in the industry, Robin has been with VHB for almost 30 years and most recently served as the Managing Director for the company's Bedford, New Hampshire, location. Under her leadership, the office grew in prominence across all service lines, expanding to better serve private developers, municipalities, and larger efforts for the New Hampshire Department of Transportation (NHDOT). Robin's work has focused on developing transportation solutions that facilitate improved traffic flow, safety, and mobility for all users from the planning stage through engineering design and permitting. In addition to her experience in transportation planning and traffic engineering, Robin led VHB's on-call safety contracts with the NHDOT and the Vermont Agency of Transportation (VTrans), and she has also worked extensively in local, state, and federal permitting for both public and private transportation improvement projects.
"Robin is well known throughout the New England Region for her technical excellence, strategic thinking, and dedication to VHB's clients, projects, and people," said Tom Jackmin, Senior Vice President, and New England Regional Manager. "Focusing on growth, she's adept at integrating new services into local projects, as well as forming and implementing strategic direction for VHB's core services. This has resulted in substantial growth with transportation, institutional, local government, land development, and energy projects throughout New Hampshire. I'm excited to have Robin join the Connecticut team and know she will help us strategically build on the team's great foundation, successfully deliver for our clients, and enhance our communities."
VHB's Connecticut team collaborates with public and private clients to move initiatives forward for state agencies, local municipalities, academic and healthcare institutions, and private developers.
Robin is a graduate of the University of Massachusetts Lowell where she earned a Bachelor of Science degree in Civil Engineering. She is a member of the Institute of Transportation Engineers International and the Northeast region.
To learn more about VHB's Wethersfield location and how we can assist you on your next project, visit VHB's Connecticut Office and connect with Robin directly via email or LinkedIn.