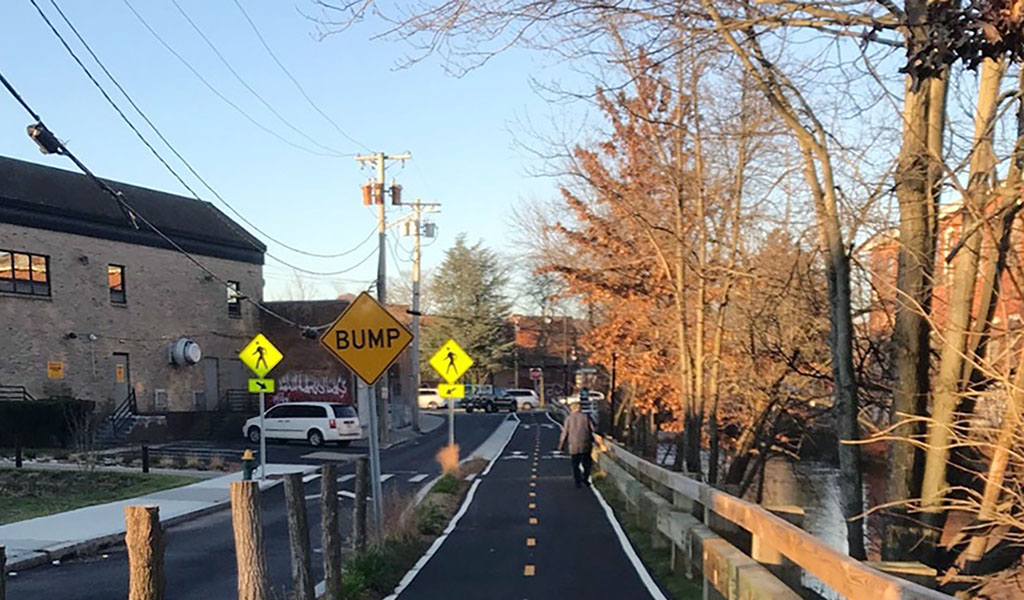 The City of Providence's San Souci Drive Shared Use Path was recently named one of America's Best New Bikeways of 2020 by PeopleForBikes. The project improved safety for pedestrians and bicyclists, increased recreational activity along the Woonasquatucket River, mitigated local flooding through stormwater management, and transformed a vehicle-oriented corridor into a great street for all users.
VHB partnered with the City of Providence and the Woonasquatucket River Watershed Council to design a shared use path along San Souci Drive and the Woonasquatucket River in the City's Olneyville neighborhood. VHB assisted with concept development, community outreach, permitting, and preparation of engineering design documents for the separated non-vehicular path. Key challenges included designing along an open river channel, retaining floodplain areas, and navigating the labyrinth of utilities in the constrained right-of-way. The project design included green infrastructure components which mitigated flooding and stormwater runoff into the Woonasquatucket River—one of fourteen American Heritage Rivers in the United States.
Joe Wanat, VHB Providence Managing Director stated, "Our team at VHB is proud to have been able to collaborate with the City of Providence on this impactful project. We look forward to continuing to assist the City in efforts to encourage active transportation and enhance the greenway and urban trail network."
The completed shared use path came at a crucial time during the COVID-19 pandemic as residents were faced with several challenges including ways to remain active despite the closure of gyms, schools, and parks. The closures have resulted in a surge of bicycle usage, a safe and socially distant way to remain active. According to PeopleForBikes, during the COVID-19 pandemic, 10% of American adults engaged with bicycling in a new way. 4% of the U.S. population (ages 18 and older) rode a bicycle for the first time in one or more years, or for the first time ever. This upward trend has resulted in a nationwide push for states to make improvements to the layout of their streets to offer improved pedestrian and bicycle usage.