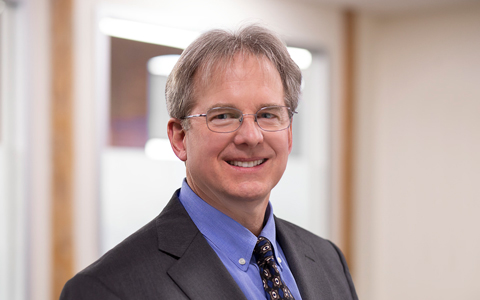 VHB welcomes Scott Hobson, MS, PWS, Senior Ecologist to its Rhode Island Environmental practice and the New England markets.
Scott joins VHB with more than 30 years of experience in the environmental permitting field, with a specialization in preparing comprehensive permit applications on a variety of projects. He brings with him a robust background in wetland delineation and evaluation, habitat assessment, wetland replication and restoration, floral and faunal inventory, endangered species coordination, and MEPA/NEPA permitting. Scott has a diverse background working with educational, recreational, commercial, and industrial clients on projects ranging from roadway and intersection improvements to bridge replacements and stormwater management.
Prior to VHB, Scott spent more than 20 years with a Rhode Island engineering firm working on public and private sector projects in Rhode Island and Massachusetts. He leveraged his relationships with regulatory agencies as an effective tool to facilitate permit processing and to manage and develop project and mitigation designs.
"Scott's multi-disciplinary approach to a multitude of projects, including wetlands, permitting, and erosion and sedimentation control are perfectly aligned with VHB's growth and the environmental services we continue to bring to our clients," said Susan Nichols, ENV SP, New England Environmental Service Leader, VHB.
Scott has authored two books, most recently "The Many Faces of a Most Common Tree: Extraordinary Diversity in Native Red Maple," for CreateSpace Independent Publishing Platform, 2015.
Scott received his B.S. in Biological Sciences and M.S. in Wildlife Ecology and Management from the University of Connecticut. Connect with Scott at shobson@vhb.com.