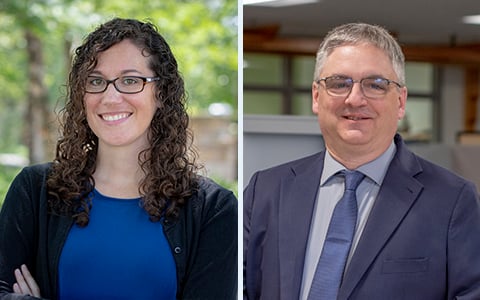 VHB's South Burlington office celebrates two of its own, Project Engineer Stephanie Wyman, PE, and Senior Structural Engineer Wayne Symonds, PE, who have been recognized as Vermont's leading engineers. Vermont's engineering societies presented the 2023 Vermont Young Engineer of the Year award to Stephanie and the Engineer of the Year awards to Wayne at the Annual Engineers Week celebration on February 24. These awards honor engineers who have made exceptional contributions to their profession and their communities.
Stephanie Wyman graduated from the University of Vermont with a bachelor's degree in Environmental Engineering. Since joining VHB in 2017, she has been primarily focused on the fast-paced and ever-evolving energy market, playing a key role in designing and permitting more than 30 commercial ground-mounted solar arrays in Vermont and New York. As her team has grown from six to 10 members, Stephanie has relished mentoring younger engineers and taking on expanded responsibilities.
Among Stephanie's notable solar design projects are two ground-mounted solar installations at the iconic Shelburne Museum; a ~3.3 MW project for the Vermont Public Power Supply Authority in Morrisville that was awarded the "Editor's Choice Award for Best Re-Use of Land" by Solar Builder magazine; and an innovative 5 MW solar project currently under construction for Middlebury College.
Prioritizing giving back to her local and regional community, Stephanie served as the president of the Vermont Chapter of the American Society of Civil Engineers (ASCE) and is currently a Region 1 Governor of ASCE. She also volunteers on the Development Review Board for the City of South Burlington. In 2022, she received the Vermont ASCE Chapter's Young Engineer of the Year award.
Prior to joining VHB, Wayne Symonds spent 29 years with the Vermont Agency of Transportation (VTrans) where his strong leadership and innovative problem solving earned him an appointment to Chief Engineer by Governor Phil Scott. Leading the Highway Division, Wayne was responsible for approximately 900 employees. Wayne collaborates with VHB's Structures Team on complex bridge projects in Vermont and across New England. His passion for bridges remains unflagging and he enjoys serving as a mentor to the engineers on his team.
Among his many accomplishments and innovations as a bridge designer, Wayne led the implementation of integral abutment bridge construction in Vermont, saving Vermont millions of dollars over the last 20 years. He pioneered the VTrans Accelerated Bridge Program, which delivered 14 bridge replacement projects in 24 months after Tropical Storm Irene and has positioned Vermont as a national leader in bridge design and construction. Under his leadership, VTrans implemented its Design-Build Program for delivering large, complex bridge replacement projects through a streamlined contracting method.
Beyond his professional achievements, Wayne is a member of the Vermont Society of Engineers and a past member of the American Association of State Highway and Transportation Officials (AASHTO) and has served on the Board of Directors for the Florida International University Accelerated Bridge Construction University Transportation Center. For many years, he served his community on the Orange Center School Board and coached youth basketball.
"Stephanie and Wayne embody all the values that make VHB a premier engineering firm in Vermont and beyond," said Dave Saladino, PE, Managing Director, Vermont. "The Vermont engineering community is recognizing them as the consummate professionals we know them to be, always exceeding expectations in solving problems, serving clients, and bettering the places where they live. This is a well-deserved honor."