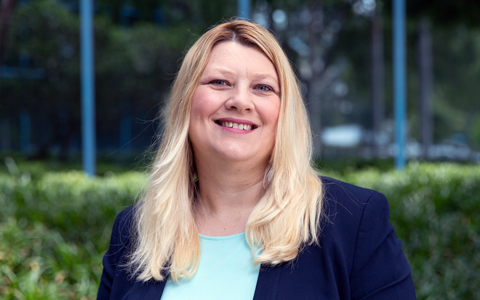 VHB welcomes Sunserea (Dalton) Gates, PE, as Senior Project Manager in the Orlando Transportation Project Development and Environmental (PD&E) group. Sunserea will help VHB clients navigate the social, environmental, and economic effects of critical transportation projects while providing NEPA (National Environmental Protection Act) experience, perspective, and depth of knowledge. She will mentor a growing PD&E team focused on enhancing transportation and mobility solutions with environmental excellence.
Sunserea has more than 21 years of experience helping clients and communities implement planning and environmental studies for major expressways, highways, and rail corridor transportation projects. She provides thorough evaluation of concepts through public engagement to minimize environmental effects via NEPA documentation and cost-feasible solutions.
She is a trusted industry PD&E leader whose experience encompasses all phases of the project development process, from planning and construction management to grant development and oversight on some of the most visible transportation projects in Florida. Sunserea's leadership includes managing multimodal corridors on more than 20 major Florida transportation projects, including the Florida Department of Transportation (FDOT) Districtwide PD&E and Rail Consultant contracts; the Wekiva Parkway Environmental Assessment for a 25-mile beltway around Central Florida that protects natural resources surrounding the Wekiva River; SunRail project development; and the FDOT I-75 Relief Study (2015-2016) to develop consensus recommendations for transportation corridors between Tampa Bay and Northeast Florida.
"VHB's Florida PD&E/NEPA practice is growing, and the addition of Sunserea to our team adds one of the most innovative and inspired in the industry," said Amy Sirmans, Director of PD&E/NEPA Services. "Her broad experience in corridor analysis and strong, outcome-driven approach means we can help our clients move transportation projects forward."
Sunserea earned her Bachelor of Science degree in Civil Engineering from the University of Central Florida and is a licensed Professional Engineer in Florida. She serves as the Southeast Region President for the American Society of Highway Engineers (ASHE) and has served on the ASHE Central Florida Section Board for more than 12 years, providing transportation industry leadership and connectivity.
To learn more about Sunserea's experience and how she can help you elevate your next project, connect with her on LinkedIn, or via email.