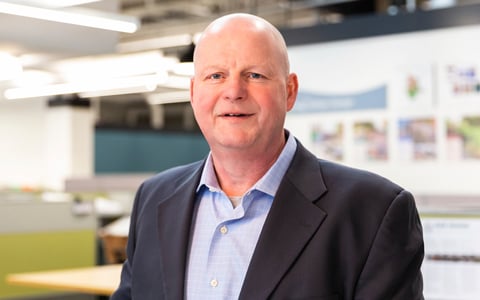 Technology-enabled consulting is at the forefront of solving our clients' and communities' most complex challenges. VHB announced today that Tim Patch, PLS, has been promoted to National Geomatics Service Leader. In this new role, Tim will partner with leaders across the company to support VHB's growth in Geomatics and will help public and private clients leverage new technology to implement smart, future-ready solutions.
Geomatics team members are involved in planning, developing, managing, and conducting spatial data management activities related to surveying, boundary law, mapping, cartography, construction, spatial information systems, land development, and commerce.
Most recently, VHB expanded its spatial-centric services to include terrestrial High-Definition Scanning (HDS), Unmanned Aerial Vehicle (UAV) aerial mapping with LiDAR, 3D modeling, and mobile-based scanning.
"VHB has a long history of delivering land surveying services to clients across public and private sectors," said Mike McArdle, Chief Development Officer. "With 30 years' experience, Tim has proven himself a leader in the industry, growing organizations and teams. As we continue to evolve and leverage technology for success, our clients rely on his experience and commitment to deliver the geospatial data they need, when they need it."
Throughout his career, Tim has managed numerous surveying engineering projects including large-scale existing conditions surveys, residential boundary surveys, large-scale development projects from existing conditions site surveys to final as-built surveys, and large-scale boundary and topographic surveys for commercial clients. Tim holds both a Master of Science and a Bachelor of Science in Survey Engineering from the University of Maine.
"VHB is committed to maintaining excellence in our Geomatics services and is equally committed to growing the capability and resources to support these endeavors while enhancing their effectiveness and value to our clients," said Tim. "Staying on-schedule, adapting to inevitable changes, and keeping a project uninterrupted are key steps in which our surveyors excel. The Geomatics team will share their foundation of knowledge and integrated, critical thinking to harness technology, including LiDAR, terrestrial, mobile and UAV to capture and parse data while always staying rooted in the basics."
Visit our Geomatics page to learn more or connect with Tim.