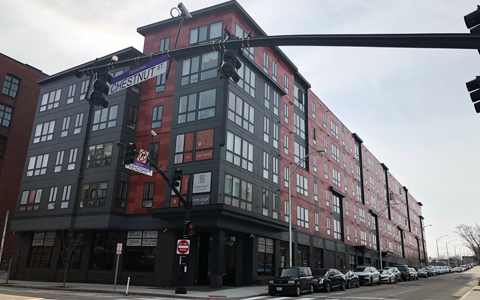 When an elevated portion of Interstate 195 that cut through downtown Providence was relocated in 2011, 26+ acres of land quickly became prime redevelopment opportunities. This transformative project created the Providence Innovation & Design District, which features 19 acres of developable land and seven acres of open space. The quasi-public I-195 Redevelopment District oversees the land and encourages development that enhances the surrounding neighborhood, generates job and housing opportunities, and creates a sense of place. Located within walking distance from the Innovation & Design District, VHB's Providence-based team has proudly contributed to several noteworthy developments within the district.
Chestnut Commons, located on Parcel 30, was developed by Waldorf Capital Management and Marshall Properties. The 111,000-square-foot, six-story, mixed-use development features street level restaurants and retail space, 92 residential units, and an integrated parking garage. VHB coordinated with the owner and architect to provide environmental regulatory compliance review services, permitting, civil/site design, utility design, and stormwater design.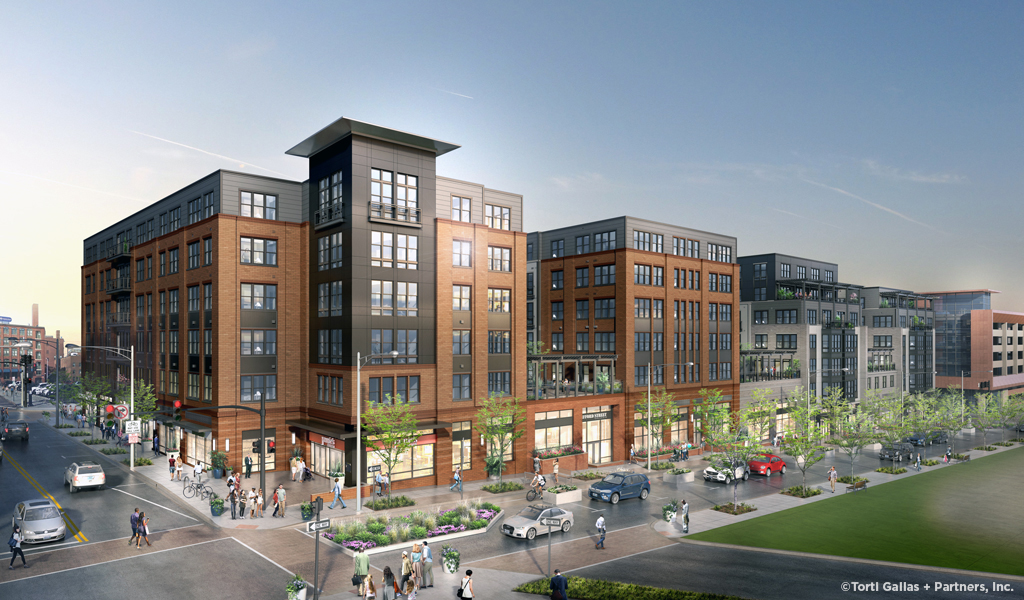 "VHB's knowledge of the I-195 Redevelopment District's approval process enabled us to quickly and efficiently secure permits," said Renee Codega, PE, Project Manager at VHB. "This experience ultimately allows us to drive schedule and support our client's development goals in a cost-effective manner."
On Parcel 28, Exeter Property Group is developing Emblem 125, a mixed-use project that includes 248 residential units and approximately 22,700 square-feet of retail space. VHB provided site/civil design, site permitting support and environmental compliance services for the development. VHB's integrated services offerings and knowledge of state and city permit requirements were highly valuable to our client and key to maintaining the project schedule. Our team secured approvals from the Rhode Island Department of Environmental Management (stormwater and soils remediation), Narragansett Bay Commission (sewer connection), Department of Public Works (traffic control during construction and utility services), Providence Water Supply Board, and Rhode Island Coastal Resources Management Council Assent. The project broke ground in October of 2020 and is expected to be completed this summer.
The VHB team also led the civil design for the Garrahy Garage, which is located across from parcels 25, 27, and 28. This 415,000-square-foot parking garage, built by the Rhode Island Convention Center Authority, offers 1,250 parking spaces to support the Innovation & Design District's increase in development.
"With a local office and strong ties to the city for more than 35 years, it's been an extremely rewarding experience to be involved in such transformative projects that will greatly enhance our downtown," said Curtis Quitzau, PE, Director of Land Development. "These projects combine our firm's integrated service knowledge of real estate, site design, urban planning, and transportation planning, enabling us to seamlessly deliver for our clients all while helping enhance community offerings."
To learn more about VHB's experience working in Providence's Innovation & Design District, or to learn more about our Providence Office, please contact Curtis Quitzau, PE, Director of Land Development.