The USGBC Virginia Community Leader Awards ceremony was held this Fall to recognize excellence in sustainable design, environmental stewardship, and community impact, while highlighting the green building initiatives and achievement of local projects, businesses, and individual leaders. VHB was a teaming partner on two award-winning projects: the Henrico County Fairfield Area Library and Old Dominion University's (ODU) S.B. Ballard Stadium— celebrated for sustainability and innovation. The ceremony also recognized Henrico County as a Green Leader for excellence in government, advocacy, and policy.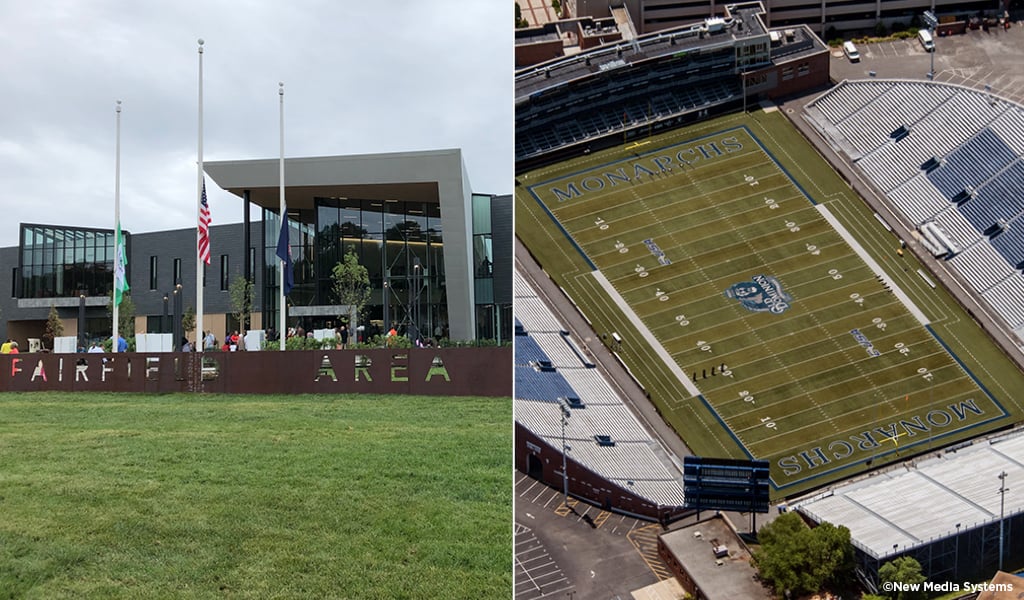 "Congratulations to Henrico County and all of the award winners that are going beyond the norm for green design," said VHB's John Carty, PE, LEED AP. "These projects stand out in our communities because of the way they are addressing climate change, meeting direct needs, innovatively using technology, and simply being spaces that users want to be in. What sets these projects apart is their focus on the future and contributions to a greener, healthier, and transformative tomorrow."

The Henrico County Fairfield Area Library is a two-story 44,803-square-foot facility that is LEED Gold certified for its sustainable design and construction and reduced impact on the environment. As part of the team led by Quinn Evans Architects, VHB provided civil engineering, environmental, and transportation services. As the People's Choice and Innovative Project of the Year award winner, the library was selected for its creative use of technology and innovation that challenged green design, and the incorporation of programming in response to the community's needs. One example of this is their incorporation of workstations that cater to the needs of caregivers with young children that went viral earlier this year.

As part of the Moseley Architects team, VHB provided civil engineering services for the initial phase of reconstruction of the S.B. Ballard Football Stadium Renovation project at ODU that won the Rise to the Challenge Award. As part of the fabric of ODU for almost 100 years, improvements to the complex included a new turf field, replacement of approximately 15,000 seats, a press box tower, and new arched entrance gate and plaza for pre-game gathering. The project earned LEED Certified status by installing plumbing features that reduce water consumption, drought tolerant landscaping, and interior and exterior LED lighting that yield dramatic energy savings per year. Traditionally, such a large project would take around 18 months to complete, but this project was completed in just nine months by utilizing new technology and fostering a strong team relationship.
"Both the stadium at ODU and library in Henrico County deliver a unique, high-performing experience for their respective communities," said John. "We are grateful for the role we played during design."

In addition, the hospital expansion at the University of Virginia that VHB also played a role in was one of the seven 2022 project finalists. This project enhanced inpatient and outpatient clinical experience and its capabilities as part of a two-phase approach to expand the Emergency Department. As part of an architectural team led by Perkins + Will, VHB provided civil engineering in support of the renovation and addition to the existing Emergency Department for the sustainable and innovative LEED Silver certified project.
VHB is committed to being a steward for future generations by incorporate environmentally responsible and sustainable practices into all the services we provide. Our core values and culture reveal the foundation of our commitment to corporate sustainability. Read our Environmental, Social, Governance (ESG) statement.