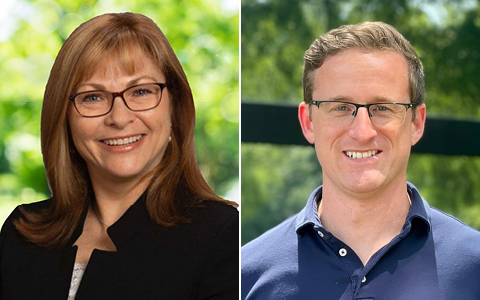 Two new Land Development Team Leaders, Holly Kidd and Mitch Bowser, have joined VHB's land development practice in Virginia. As economic growth continues along the I-64 corridor to connect the major metropolitan cities of Richmond and Virginia Beach, VHB has expanded its team to increase capacity and support clients making investments in industrial, multifamily, commercial, higher education, and healthcare campuses.
Holly Kidd has joined VHB's Williamsburg office and is well-versed in design and leadership of land development, including land use planning, site stormwater, utility coordination, roadway networks, and construction plans. Prior to joining VHB, Holly worked for various public agencies throughout her 15-year career—the Virginia Department of Transportation, the City of Newport News, the City of Lubbock, TX, and the U.S. Army Corps of Engineers. Her depth of knowledge in permitting and regulatory review processes gained while working with public agencies will be beneficial for keeping plans, scope, and specifications on track. Holly's experience negotiating construction changes, interpreting contracts, and reviewing, investigating, and resolving construction design issues will help keep projects moving and meet client deadlines.
Mitch Bowser has joined VHB in Richmond and will be instrumental in elevating VHB's land development services for commercial, residential, and industrial projects. With more than 15 years of experience working alongside private developers and project owners, Mitch brings a strong understanding of local site environmental and infrastructure challenges, permitting and approval processes, and coordination with stakeholders. His experience with private development projects gives him a broad understanding of various stakeholders' needs and requirements—a benefit for keeping projects on track. Developments that reflect Mitch's leadership and management include Richmond's Topgolf; numerous multifamily communities with more than 3,500 units, including Marshall Springs at Gayton West in Glen Allen, and Aura at Stonebridge in Chesterfield County; and national retail development sites, such as Sheetz, Publix, and Royal Farms.
"Delivering exceptional service to our client partners is our highest priority," said Piotr Swietuchowski, Land Development Service Leader for the Mid-Atlantic. "This includes assembling the strongest team of professionals that can manage key development projects and confirm that critical milestones are met to get our clients open for business. Having Holly and Mitch as leaders will allow us to build impactful teams that will collaboratively advance and enhance communities across the I-64 corridor. Their perspective, experience, and insight will be beneficial to our clients and their project advancements."
In addition to these new Land Development Team Leaders, VHB's presence along I-64 grew significantly with the acquisition of HG Design Studio in October 2022. The two firms joining forces added 17 new employees to VHB's Richmond office, accelerating growth of services through landscape architecture, water resources, and land planning.
To learn more about Mitch or Holly's land development experience and how they can assist you on your next project, connect with Holly on LinkedIn | email or with Mitch on LinkedIn | email.