The Route 128/I-95 corridor is a vital component of the Metro Boston transportation network, but traffic volumes have steadily risen in recent decades due to ongoing development. This has led to concerns about environmental and quality-of-life challenges, including transportation choice, safety, mobility, connectivity, land use policies, sustainability, and health impacts—particularly for vulnerable populations.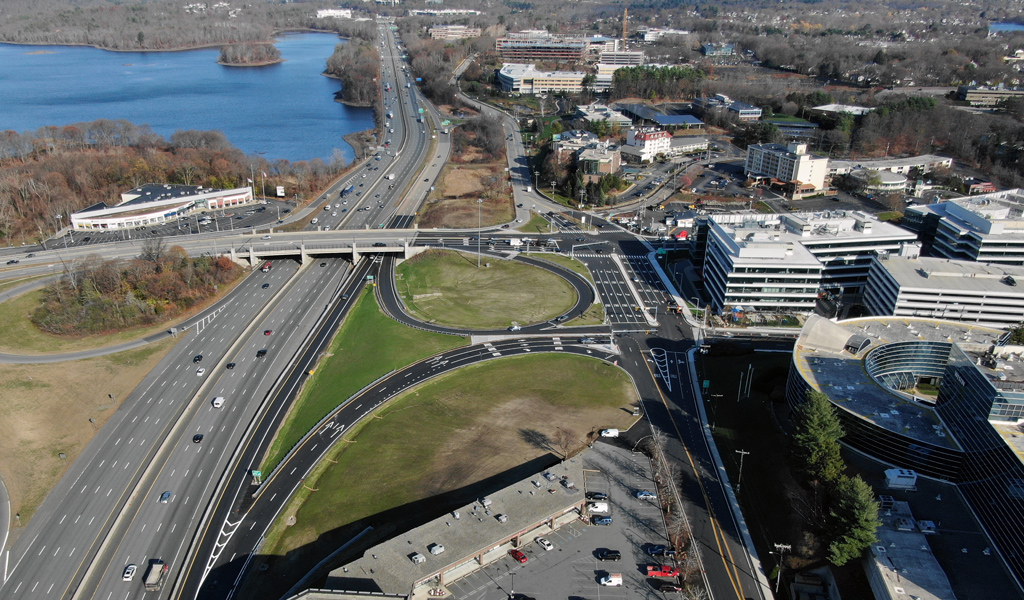 In response to these concerns, the Massachusetts Department of Transportation (MassDOT) partnered with VHB to develop the Route 128/I-95 Land Use and Transportation Study. The recently completed study evaluates current and future transportation and mobility issues, and establishes land use, housing, and economic development assumptions to inform alternatives analysis. In addition, the study offers policy and infrastructure recommendations that will assist in guiding MassDOT and municipal priorities and future investments at both the local and state levels.
One unique aspect of the project was leveraging VHB's Healthy Mobility Model to conduct a Community Risk Assessment. This allowed the team to identify vulnerable populations based on estimates for six chronic diseases (obesity; diabetes; chronic obstructive pulmonary disease; asthma; high blood pressure; and coronary heart disease). These health and risk factor assessments helped shape the alternatives presented in the study.
VHB also collaborated with MassDOT and FHI Studios on an extensive public outreach program focused on balancing local priorities with regional perspectives. This included organizing a Working Group of elected officials, municipal leaders, and business community representatives from the five municipalities in the study area (Lexington, Lincoln, Newton, Waltham, and Weston) to further inform the study and help build consensus along the corridor.
Several of the study's immediate term recommendations are currently being advanced, including safety improvements at the Route 16 interchange in Newton. "The Route 128/I-95 Land Use and Transportation Study has been an invaluable resource for the City of Newton and the region," says Josh Ostroff, the City's Director of Transportation Planning. "The study provides a comprehensive view of interrelated opportunities for transportation improvement, smart development, housing creation, and open space preservation. It has been instrumental in advancing specific City priorities and initiatives. We are grateful to both the MassDOT and VHB teams for their strong work on the study."
With development expected to continue in the greater Waltham area over the next 10-15 years, the study will play a crucial role in future corridor planning. Liz Williams, Project Manager for MassDOT adds, "The Route 128/I-95 Land Use and Transportation Study connects the dots, linking community-based land use visions to transportation policy and solutions. It lays the groundwork for a healthy and thriving corridor for decades to come, and most importantly, it provides MassDOT, municipalities, and other partners with an implementable action plan for transportation investments that is sustainable, equitable, forward thinking, and data driven."