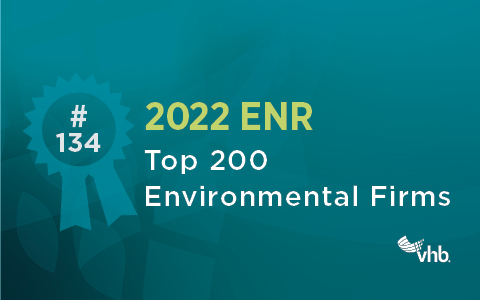 VHB continues to grow and is again included on Engineering News-Record's annual Top 200 Environmental Firms List, which ranks firms based on 2021 gross revenue reported from environmental services. In the magazine's lead story, "Top 200 Environmental Firms Gird for Headwinds, But Get A Surprise," ENR looked to VHB and our consultant peers for thought leadership in understanding and navigating the evolving environmental sector.
As the industry focuses on addressing the climate crisis, ENR noted that VHB is seeing clients advance net zero and decarbonization goals. Neville Reynolds, VHB environmental service line chair, said, "Climate change is a monumental issue impacting not only the environmental industry, but all markets, services, and sectors. VHB is performing an increasing number of resilience studies and vulnerability assessments."
With renewable energy playing a big part in climate solutions, ENR turned to KC Sahl, National Offshore Wind Director, for insight. "There now are 19 U.S. offshore wind projects at development stages, with 18 GW of capacity having a power offtake pathway. VHB provides regulatory, permitting, and technical consulting services for some projects."
VHB is proud to be recognized by ENR not only for our growth within a competitive industry, but for the depth of our market knowledge and our comprehensive response to the ongoing challenges and impacts associated with climate issues and energy transformation.
Visit our Environmental Services page to learn more about how VHB is helping our clients move projects through tough environmental regulatory processes and create a more sustainable and resilient future.