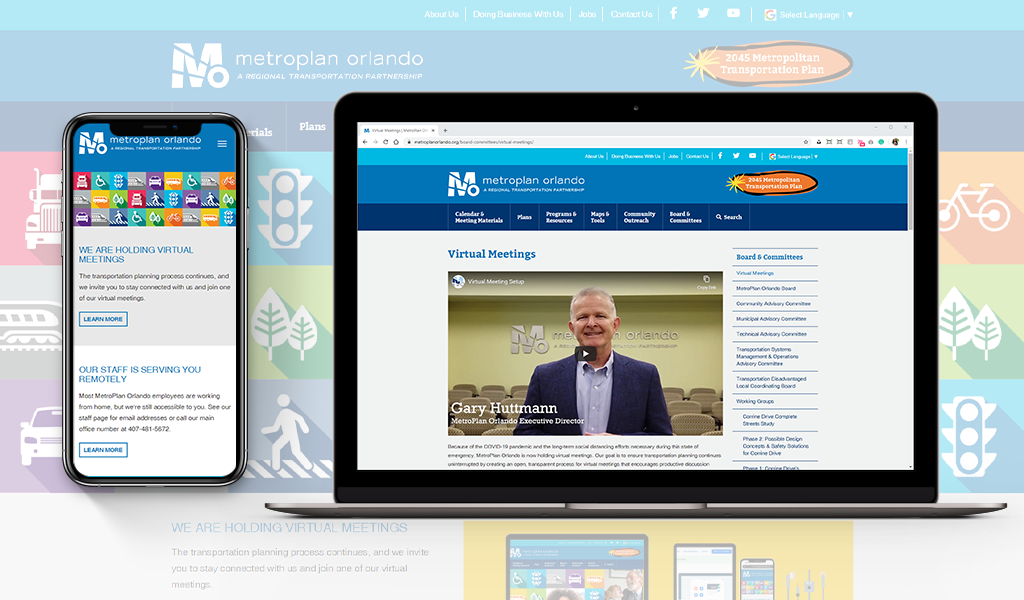 Community input is the hub of the wheel that drives urban transportation planning organizations like MetroPlan Orlando. When COVID-19 closures and physical distancing had an immediate impact on the agency's ability to hold in-person stakeholder, board, and committee meetings, they asked VHB to help. Faced with an upcoming slate of eight scheduled board and advisory committee meetings of 125 combined members, MetroPlan Orlando needed a solution to help facilitate the agency's first-ever virtual public meetings.
VHB responded with a solution. A multi-disciplinary team of transportation planners, applied technology, and information technology leaders were able to develop best practices for quickly bringing staff, committee and board members, and the public onto a managed virtual platform.
In 1968, the State of Florida enacted a public records law, the Sunshine Law, which establishes a citizen's right to access most meetings of government boards, commissions, or other governing bodies of state and local government agencies or authorities, including in-person quorum requirements.
"Transportation affects everyone in Central Florida, so we encourage public participation in the planning process–and that includes public comment at our meetings," said Cynthia Lambert, APR, Public Information Manager with MetroPlan Orlando. "However, we had to find a new way to keep our work open and transparent when stay-at-home advisories and social distancing recommendations were issued in March, making it impossible to physically meet."
Gov. Ron DeSantis issued an executive order suspending the statute that required an in-person quorum at state and local government meetings, thereby allowing agencies like MetroPlan Orlando to satisfy quorum and enlist VHB to develop new protocols for public meetings via video and teleconferencing during the coronavirus pandemic shut-down.
"Our timely publication of VHB's Viewpoints thought leadership piece on Innovative Approaches to Facilitate Virtual Engagement let MetroPlan Orlando know we had this capability, and they reached out to VHB," said Curt Ostrodka, VHB Director of Community Planning. Curt has led more than 100 public workshops and community engagement events for local governments and agencies like MetroPlan Orlando and was able to apply his experience to meet the current challenge.
The VHB team jumped into action to support MetroPlan, developing procedures to guide the use of video meeting technology, including important guidelines for meeting moderation, addressing security concerns, and run-of-show. The team provided training to MetroPlan Orlando staff on how to serve as virtual meeting hosts. VHB also provided technology support during public meetings and conducted educational Test Meetings to provide efficiency when meetings go live.
In addition, MetroPlan Orlando created a Virtual Meetings webpage with resources for board and committee members and the public that enables videoconferencing novices to easily participate in the transportation planning process. Resources include videoconference training via YouTube, tip sheets, public comment instructions, and more.
"The nature of our public meetings now means more eyes are watching MetroPlan Orlando from around the state," Cynthia said. "VHB worked seamlessly as an extension of our team during the transition to virtual meetings. The rapid response means the important work of transportation planning for one of the fastest growing metropolitan areas in the country continues smoothly."
VHB embraces technology to address our clients' most complex issues, from questions on information technology systems to leveraging new virtual meeting technology. For more information about how VHB can help facilitate virtual engagement for your company, connect with Ken Schwartz, AICP, NCICS, Planning + Design Service Leader.