The world is experiencing an energy transformation and clean energy revolution in response to climate change. Recent legislation has catapulted the U.S. into a new era, one in which we need to think and build differently. The Infrastructure Investment and Jobs Act (IIJA) provides a total of $1.2T, with an emphasis on infrastructure investments focused on sustainability, resiliency, and equity. The Inflation Reduction Act (IRA) builds on IIJA with $369B of additional climate and energy funding over the next decade. Together, they serve as catalysts for major energy transformation.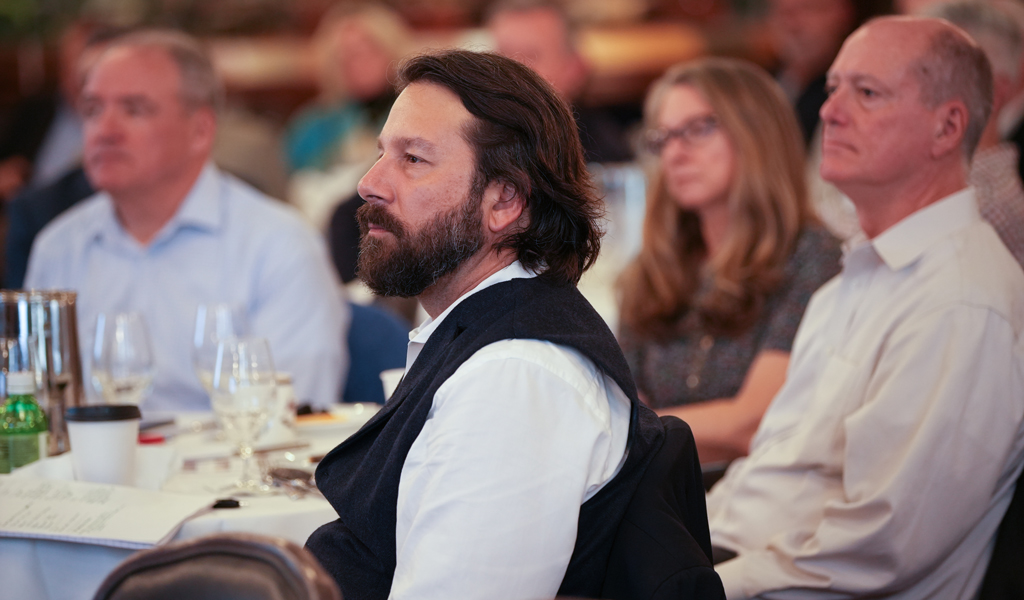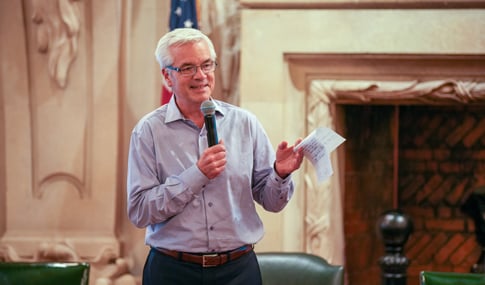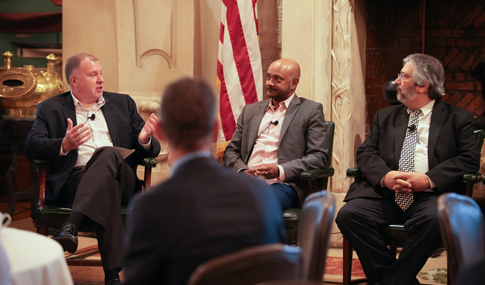 As global changes continue to accelerate, VHB is focused on balancing immediate client needs with exploration and implications of the future. We recognize the enormity of the pace of change around the energy transformation—and the complexity of the issues associated with the clean energy revolution. Understanding that the AEC industry is on the frontline of these changes—and in helping our clients find solutions—VHB met with industry leaders to raise awareness of key impacts and disruptors ongoing in our industry and prepare us to meet the challenges of our ever-evolving future.
Guest speakers included Thomas Abdallah, VP of Design Services & Chief Environmental Engineer at MTA Construction & Development; John Dalton, President of Power Advisory; Chad Farrell, Encore Founder & CEO; Chris Fernando, Hovecon Principal Aviation Consultant and UAM & UAS Specialist; Sarah Fitts, Partner at ArentFox Schiff; Jim Frazer, VP of Infrastructure & Smart Cities at ARC Advisory Group; Clint Plummer, CEO of Rise Light and Power; John Hensley, VP of Research & Analytics at American Clean Power Association; Vishant Kothari, Manager, Electric Mobility at WRI Ross Center for Sustainable Cities; and Dan Zarrilli, Columbia University, Special Advisor—Climate & Sustainability.
Key insights and takeaways shared during the conversation included:
Energy storage needs to catch up. Renewable energy generation continues to grow across the country; however, long-duration energy storage is needed to increase capacity factor. Capturing and storing energy during peak periods for later use is a critical part of running an efficient, renewable grid and could include community-based power or shared-energy solutions.
Land use is a complex issue. An abundance of land is required to support the energy transformation; however, issues such as zoning regulations, siting and permitting requirements, and environmental considerations can impede progress. Leveraging legacy infrastructure and repositioning existing assets will help to unlock land use potential.
Electromobility involves more than just vehicles. From e-bikes and e-scooters to personal vehicles, commercial fleets, freight, and transit, electrification of transport continues to grow. However, electrification puts a strain on our existing power grid. Widespread, efficient, and accessible charging infrastructure is critical to the mass adoption of electric mobility options and could include smart chargers, microgrids, or shared charging facilities.
Smart communities are interconnected. All communities—from big cities to suburbs to rural townships—benefit from interconnected, technology-enabled initiatives. Connected mobility allows various modes of transport to communicate, share data, and improve user experience along an entire network. As the energy transformation continues to impact mobility, connectivity is critical to increase safety, efficiency, and convenience.
Enhanced transmission is critical for connectivity. Transmission constraints currently exist for delivery of power, especially interregional connectivity. Additional transmission is needed to transport solar power out of the Southwest and offshore wind power from the coasts, for example. Innovative solutions will be needed to obtain geographic diversity in our energy systems and meet net zero goals.
Our workforce will continue to evolve. As energy generation and mobility options change, so too does the shape of employment. The current U.S. workforce is not right sized to achieve energy transformation. We must leverage existing resources for new opportunities, train new workers in the unique skillsets required, and partner with educational institutions to build a renewable energy workforce.
Community engagement is key. Clean energy projects, from concept to construction, must consider how the clean energy vision impacts the community vision. Connecting with communities on a personal level, understanding what a community needs, and compromising, when necessary, is so important for a successful energy transformation.
There is no singular solution to achieving net zero. Innovation, strategic thinking, data and technology, and partnerships will continue to play a key role in the built environment—and in the transformation to a clean energy future. But transition must move in incremental steps, and we must have a robust toolkit to affect major, positive change.