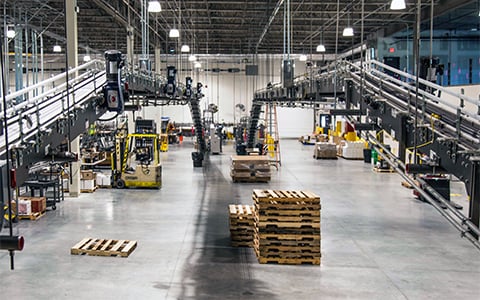 The industrial real estate market is thriving in an otherwise challenging time, and Central Florida is representative of current changes. An uptick in e-commerce, accelerated by COVID-19, is driving the change. According to CBRE Research, every $1.25 billion in e-commerce generates a demand for one million square feet of industrial space for groceries, household supplies, clothing, and more. The unprecedented—and unplanned for—demand in the area has lessened some of the Florida's economic loss when the core client base of attractions and tourism was hit hard. Are similar metro market areas seeing the same industrial real estate boom?
To get the pulse of industrial growth across the U.S., VHB held a Virtual Roundtable with public and private sector leaders from the architecture, planning, real estate, and construction industries for a conversation about changes in the industrial real estate market within their communities. Moderator David Murphy, Executive Vice President at CBRE and a nationally recognized industrial broker in Central Florida, spoke with participants about their challenges and innovative responses. Participants agreed that this is the beginning of substantial growth and a structural shift in the industrial market. Insights included:
The mega e-commerce facility model is driven by a two-day delivery model customers have come to expect. Previously, goods came from further way in a traditional hub and spoke and distribution model with one- to two-week deliveries. Two-day and even two-hour delivery now demand that industrial space is within short driving distance. Customers call the shots in more ways than one: some retailers are building dedicated industrial space to address in-store shopper concerns during COVID based on consumer feedback.
The "mega" e-commerce facility is on the rise. Tenants in these 600,000 to one million square foot spaces tend toward third party logistics, e-commerce only, general retail, food, and beverage.
Architects and contractors are building bigger. Big box distribution centers of just a few years ago were 250,000 square feet with 32-foot clear heights. Owners are now building 40-foot clear heights for one million square foot and larger facilities. Demand means more employee and extra trailer parking. Expect 80-foot clear heights in the future.
Freezer and cooler space interest are increasing. Cold storage automation and clear heights are driven by technology. People are storing more products than they need and doing that closer to the consumer.
Developers are attracted to areas like Central Florida because of its rapid population growth over the past five years, which is not expected to abate. That demand means net asking rents rose two percent quarter-over-quarter in 2020 to a current $8.09 per square foot. Industrial demand has led to an increase in speculative development in regions like the mid-Atlantic, New York and New Jersey Tri-State, and the Baltimore/Washington corridor.
Land is a barrier to entry. Successful developers are utilizing the skills of their land planning teams to find sites that are large enough (50 to 100 acres), entitled, meet height restrictions, and are easy for employees and trucks to access.
Access to interstate corridors and ports at global gateway markets are important when evaluating land for capital investment. Locations like South Florida, Seattle, and Southern California will see industrial growth. Expect investors to seek out secondary markets for available land near important interstate corridors like I-75, I-95, and toll roads in Florida. The growth of Savannah's port in Georgia changed the dynamic of how Florida was served.
Central Florida's increase in e-commerce industrial space mirrors metro market areas across the country. Is your community prepared for similar changes? To learn more about how VHB's real estate and planning teams help industrial clients respond, contact Joe Kolb, PE, Southeast Regional Real Estate Team Leader.