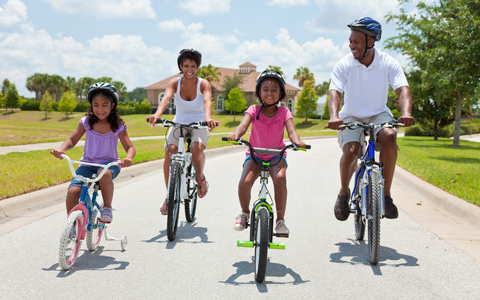 The U.S. is experiencing a housing crisis, and homebuilders in Florida are rushing to meet demand for new single-family housing. Many of today's buyers are looking for housing that supports a live-work-play lifestyle. Wellness Way, a new neighborhood in Lake County now under construction, is being shaped from the start with a focus on enhancing the healthy lifestyle and economic opportunities for its residents and visitors. An integrated team of VHB planners, real estate professionals, and civil engineers are an instrumental part of connecting the community to opportunity, and balancing transportation demand with regional connectivity.
The area of Central Florida where Wellness Way is being developed attracts residents that want to live near Disney amusements as well as a large cadre of runners and cyclists who flock to the area's rolling hills of former citrus groves.
VHB's close relationships with public and private partners helped fast-track Wellness Way's development. A healthy balance of jobs-to-housing requires infrastructure to support access, so VHB was enlisted at the outset to provide a comprehensive corridor connector study that showed how a new Orange/Lake Parkway four-lane toll road can connect US 27 in Lake County and SR 429 in Orange County. The arterial roadway will be a critical link that allows residents and commuters from Wellness Way access to bypass congestion and reach jobs and opportunity in Downtown Orlando. VHB provided key entitlements and site planning work to help connect the new roadway—which is being constructed in segments—to new developments.
VHB worked closely with builders and developers on a sector plan, entitlements, and land use studies to fast-track multi-housing developments, retail, health and wellness providers and new home construction more than 3,000 new single-family units by Lennar Homes and Pulte Homes. Our civil and traffic engineers laid the groundwork with critical infrastructure enhancements including planning for arterial roads and trunkline utilities. Access to a multimodal trail system for bicycles, pedestrians, and adaptive vehicles throughout the community plan was a key feature that provides connection and healthy lifestyle enhancements. VHB landscape designers were enlisted to incorporate Wellness Way design standards to bridge and wayfinding signage.
VHB transportation engineers and landscape architects are completing final roadway design of Wellness Way Boulevard from Hancock Road to New Independence Parkway at the Orange County line, as well as roadway design for the extension of Hancock Road from Wellness Way to south of Hartwood Marsh Road.
For more information about how VHB partners with communities and developers to elevate the places we live, work, and play contact John Prowell or visit Planning & Design.