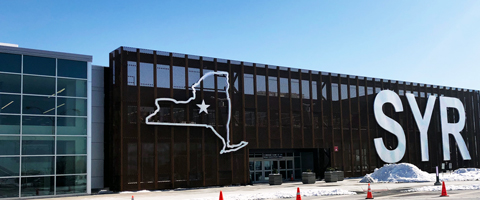 VHB recently kicked off the Syracuse Hancock International Airport Master Plan Update, a 20-year infrastructure development plan to outline the future needs of the regional airport for the client, Syracuse Regional Airport Authority. As the airport expands due to growing interest in the area by cargo- and last-mile-centric companies, the Master Plan Update will offer solutions for infrastructure, including needs that address the growing demand for Unmanned Aerial Systems (UAS).
During the procurement process for the contract, VHB set itself apart by researching and understanding the current needs of the airport, as well as the aviation industry on a broader level, and creating a team spanning national, regional, and local expertise. By hosting a series of Aviation Roundtables*, VHB met with leaders and stakeholders in the industry to understand the impacts of COVID-19, the resulting challenges airports face daily, and how we can address those issues in the future.
Additionally, VHB will address financial, economic, and environmental sustainability considerations as part of the Master Plan Update. Our approach combines data-driven analytics and current inventories on site, as well as local factors such as the growing demand for cargo and freight in the region, to provide sustainable solutions that will secure the future for the airport.
"VHB is known in the industry for airport sustainability planning, having partnered across the country with major airports like Nashville International Airport, Boston Logan International Airport, and Los Angeles International Airport," said Fin Bonset, Director of Aviation Services. "We are incorporating this experience into every element of our Master Plan Update at Syracuse Hancock. As the airport moves into a period of growth and transition, our goal is to provide sustainable solutions that will position the airport as transportation power player in the region."
The Master Plan Update will also address cargo and transportation to accommodate the growing number of carriers and rising prominence of last-mile delivery and warehousing in the region. Using a collaborative, integrated services approach, VHB will leverage land-side transportation planning experience and local knowledge to understand how the airport affects multi-modal transportation around the airport and the region.
"The airport is performing very well during this period of initial recovery," said Bonset. "As big cargo and logistics centers start moving in and building distribution centers in the area, along with new air-carrier service attributed to the region's continued growth in university attendance and the medical fields, it's an exciting time to begin planning next steps for Syracuse Hancock International Airport. We're thrilled to be working with a forward-thinking client as we assess their needs for the future."
For more information, contact Fin Bonset.