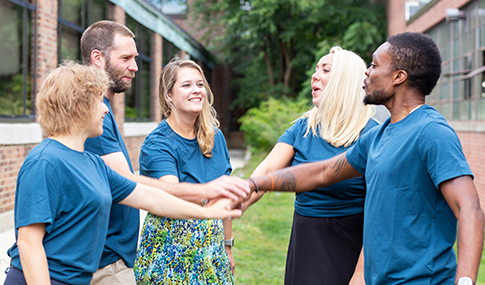 VHB has once again been honored by the Boston Business Journal as a Top Charitable Contributor in Massachusetts—a distinction VHB is proud to have earned for the thirteenth consecutive year.
Since VHB's founding over 40 years ago, the company and its employees have raised more than $4 million for local charitable organizations, which are selected by VHB offices across our footprint. Despite the challenges of fundraising during a pandemic, this year VHBers again demonstrated their compassion for others and stepped up to support those in need through the company's employee-led charitable giving program, VHB Cares.
"I continue to be humbled by VHBers' generosity, which has only increased during this difficult time. What a great testament to the spirit of VHB," reflected President and CEO Mike Carragher. "As the world around us faces significant challenges, it is inspiring to know that we continue to remember those who are less fortunate and who depend on contributions from organizations like VHB, now more than ever."
While in-person fundraising events have temporarily been put on hold, VBay, the company's largest charitable event, was held exclusively online this year with great success. VHB employees have also continued to volunteer at food pantries, homeless shelters, and other community organizations. Under normal circumstances, VBay is complemented by in-person fundraising and team-building events throughout the year, including the VHB Jimmy Fund Golf Tournament, which over the past 26 years has raised more than $1 million to support cancer research at the Dana-Farber Cancer Institute.