Knowing VHB's commitment to bettering our communities, a staffer at the Rhode Island Department of Transportation's Office of Highway Safety introduced VHB Providence to a local non-profit, Young Voices, which is now one of the company's sponsored charities this year. This past week, VHB's Providence office welcomed 20 high schoolers and four staff for a Young Voices field trip.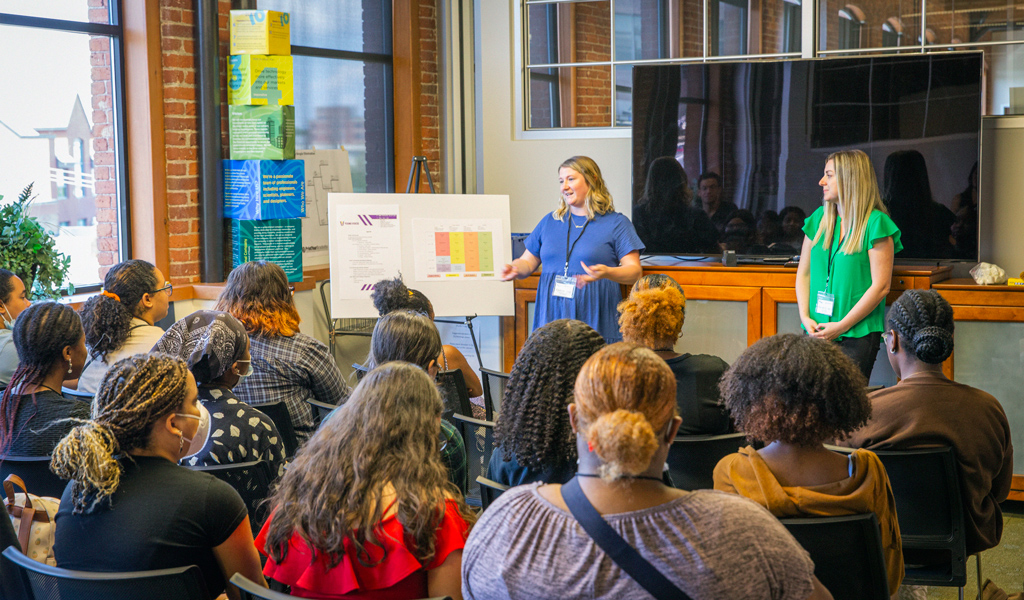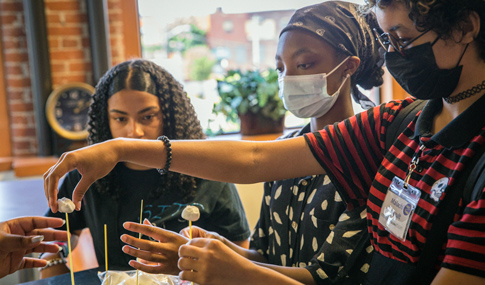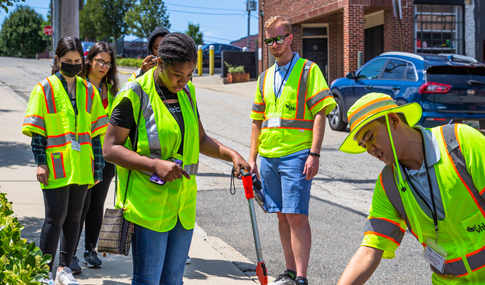 Young Voices has earned national recognition for its transformative work with underserved Rhode Island youth. Since 2006, the organization has empowered more than 750 BIPOC (Black, Indigenous, and people of color) youth to be confident advocates for themselves and others. Whether helping the State's lawmakers reform educational policies or brainstorming ways to confront systemic injustice, the youth served by Young Voices gain impactful, real-world leadership skills. They not only learn to shape society's future but also their own, exploring careers through informational visits to college campuses and workplaces.
Students came to the office in two groups based on their career interests: Innovation Nation (science, technology, engineering, and math [STEM]) and Making Money Moves (banking and finance). With a focus on networking, the interactive event gave the students a fun, behind-the-scenes look at an engineering firm and some vocational possibilities they can aspire to.
After introductions, VHB employees and the students teamed up to flex their creativity in building the tallest possible structures from spaghetti, marshmallows, and gumdrops. In small groups, students then rotated through four different sessions designed to give them different perspectives on the professional life, from STEM careers and beyond.
Using a smart level, students conducted fieldwork outside in the parking lot and took full advantage of the Q&A opportunities in a lively open forum with young staff and co-ops, discussing school, college classes, and other topics. A "show-and-tell" presentation featured several interesting projects in the greater Providence area. In the financial session, students learned about business and how employees overcame obstacles in their nontraditional career journeys. Gathering around pizza for the field trip's finale, the group enjoyed more camaraderie and chances to network.
Justin Dufresne, PE, Providence's Managing Director, characterized the day as an all-around success. "The students brought so much energy to the office and an eagerness to learn. Sharing what we do for a living and our stories of how we all got here meant a lot to me and everyone involved. We participate in so many charity fundraising events, but I am so proud of our team for taking time out of their busy schedules to donate their time and connect with these students personally. Investing in young people and inspiring the next generation of STEM professionals aligns with what VHB stands for, as a company devoted to making our communities more equitable and sustainable."
Thank you to the Providence team who contributed to making this a memorable event.