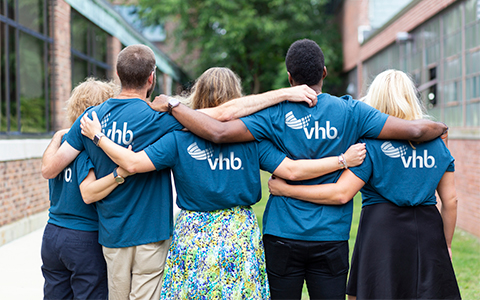 Virginia Business, a print and digital magazine reporting on the State's business intelligence, has named VHB as one of the 2021 Best Places to Work in Virginia for the fifth year in a row. The company joins a prestigious list of 100 firms across a full spectrum of Virginia industries that were evaluated based on surveys conducted with companies and their employees. VHB was ranked 14th in the Large Employers category (250+ U.S. employees) for keeping their employees' well-being in mind through professional growth and a collaborative workplace environment.
As a generational company, where business performance and employees are given equal attention, work-life balance is important at VHB. The company provides programs that promote and build healthy habits and wellness, and awards recognizing innovative thinking, emerging professionals, and project management excellence. VHB also offers employees a collaborative culture with a focus on advancement and progression. Even though employees can't be together like they traditionally would this year due to the Coronavirus pandemic, VHBers are taking time to step back and reflect on the great work their teammates are delivering and appreciating each other with virtual celebrations and gatherings.
"We are honored to again be recognized as one of Virginia's best places to work," said Nancy Barker, Mid-Atlantic Regional Manager. "This past year was one that tested our ability to conquer and persevere, and we succeeded. I am proud of the creative approaches to client outreach and team collaboration that resulted in continuing to deliver smart solutions for our clients. Thank you to our Virginia staff for doing all you can to make VHB a great place to work year after year!"
The competition's application process was designed to highlight what makes a business stand out from "standard workplaces." An Employee Engagement and Satisfaction Survey was given to employees to determine what they love most about where they work. Companies are benchmarked on a list of core values: leadership and planning; corporate culture and communication; role satisfaction; work environment; relationship with supervisor; training and benefits; pay; and overall engagement. Taking a spot on the list of the best places to work in Virginia for a fifth consecutive year shows that VHB continues to be a company who values its employees and takes great pride in their work.
With four offices across Virginia, VHB is passionate about shaping the world through their work as engineers, planners, scientists, and designers. With a total firm size of over 1,600, VHB partners with clients in the transportation, real estate, institutional, and energy industries, as well as federal, state, and local governments. Most recently, the firm was selected as the engineering consultant for the preliminary engineering phase of the Long Bridge rail project, connecting Arlington to D.C. – a $21 million project that will transform the eastern seaboard's freight and passenger rail network.
Interested in joining the VHB Team? Visit our careers page to view our current job openings.