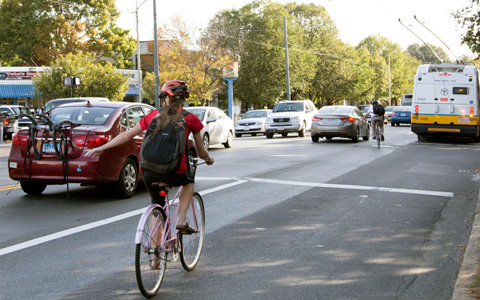 VHB Gulf Coast and Orlando offices have been named 2022 Best Workplaces for Commuters, offering employees exceptional commuter benefits. For the second year running, VHB was recognized for this achievement awarded by the Center for Urban Transportation Research (CUTR) at the University of South Florida. With a flexible hybrid work environment and a dedicated employee transportation coordinator to help simplify commutes, the company provides an array of commuter benefits for its employees.
To receive the Best Workplaces for Commuters national designation, VHB has committed to providing at least five means of support to help employees leave their cars at home, including designating a central point of contact for employee commuter questions. VHB's Orlando, Chipley, Tampa and Sarasota offices emphasized new ways to support teleworkers as a result of COVID-19 via online internal collaboration tools and the CARES financial benefit to assist with securing caregivers for children, pets, and elder family members. Other commuter benefits include:
A Transit Flexible Spending Account. VHB contributes 50 percent for monthly public transportation costs, up to the maximum tax-free benefit amount.
VHB Together is an online shared collaboration spot which offers employees guidance and resources for working from home.
Flextime work options to alter workday beginning and ending times to ease commuting.
Evolving Workplace offers a purposeful and thoughtful approach to proactively evolve workplace culture and provide a flexible, hybrid work environment, including work-from-home options.
"The VHB Well programs provide our commuting employees a range of options for elevating ways to stay healthy, happy, and resilient at work and home," said Matt Lamb, VHB Southeast Regional Manager "It's a big part of our employee recruiting and retention efforts and we consistently receive input from job seekers that they want to work with VHB because we care about how our actions impact the environment."
VHB encourages their employees to consider commuting via multiple modes of transportation including catching the SunRail commuter train, or riding a bicycle. Many Orlando and Gulf Coast employees participate in the Florida Bicycle Month Challenge in March, which encourages individuals and workplaces across Florida to get more people riding bikes via friendly competition and bicycle safety education.
Chris Roark, Senior Traffic Analyst, is a great example of an employee who utilizes VHB's commuter benefits. He has logged more than 2,109 miles on his bicycle just by taking part in the Challenge and says he rides more than 100 miles per week for health reasons.
"I moved from indoor spin classes to riding more than 100 miles a week when a triathlete neighbor of mine asked me to join him on a training ride," said Chris. "Logging my bicycle miles in Love to Ride keeps me accountable and encourages others. Not only is it a great stress reliever for me but it has also helped me stay healthy after several spine surgeries."
Best Workplaces for Commuters is the national authority on recognizing and assisting workplaces that provide exceptional commuter benefits to employees. The program provides the support needed to create and sustain an employer-provided commuter benefit program, including online assessment tools, advisory services, case studies, toolkits, web-based tools, webinars, and training. The Best Workplaces for Commuters program is managed by the Center for Urban Transportation Research (CUTR) at the University of South Florida with support from the Florida Department of Transportation (FDOT).