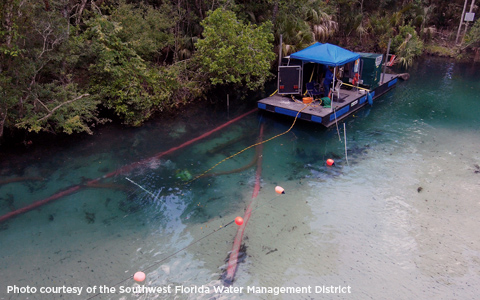 The Weeki Wachee River, located approximately 40 miles north of Tampa in Florida's Springs Coast, is home to mullet, manatees, and mermaids. Over the past hundred years, the river has experienced significant ecological shifts, caused by both natural and human activities, including sedimentation.
Despite most sources of erosion being addressed in the past, this accumulated sediment continues to move in the river along with widening sand bars and increasingly shallow areas in the lower river. VHB is helping the Southwest Florida Water Management District (District) remove the accumulated sediments to re-establish historic river depths.
The Weeki Wachee Channel Restoration Project is funded by the State of Florida and the District and will restore approximately 1.5 miles of the lower river impacted by sedimentation. Project partners include Hernando County, the Florida Fish and Wildlife Conservation Commission and the Florida Department of Environmental Protection. The project utilizes hand-dredging, which vacuums the sediments from the riverbed to the dredge material treatment area where sediments are removed before returning clean water to the river.
"This project is another example of the efforts by the District and its partners to protect the Weeki Wachee River," said Janie Hagberg, Chief Engineer & Surface Water Improvement and Management (SWIM) Supervisor. "We are committed to using a variety of tools such as restoration, research, regulation, and education to protect our area springs."
An integrated team of VHB environmental and engineering professionals collaborated on the Weeki Wachee River Channel Restoration Project, beginning with environmental surveys and permitting. VHB assisted in the identification of the impacted areas, the recommended channel alignment, and the design of the dredge material treatment area. After providing the design plans to the District, VHB assisted in obtaining all necessary permits and attended agency and public stakeholder meetings. VHB continues to assist the District during project construction by performing engineer of record and construction engineering and inspection support.
The restoration work not only preserves habitats and improves manatee passage, but also minimizes impacts to submerged aquatic vegetation.
"The return of native vegetation will bolster the riverbanks and river bottom, offering a restored sanctuary for Florida manatees, river otters, wading birds, turtles, fish, crayfish and other freshwater species," said VHB Project Manager, Gary Serviss, LEED AP. "The Weeki Wachee River Channel restoration project is a prime example of how our integrated approach benefits clients like the District. We want a bright future for the Weeki Wachee River—an ecosystem thriving with life, where manatees, fish, and abundant plant life thrive in a restored river."
Learn more about VHB Environmental Services and the history of the world famous Weeki Wachee Mermaids.