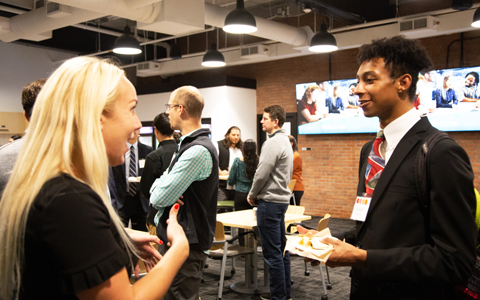 VHB is honored to have received the 2022 Outstanding Employer Award from Northeastern University College of Engineering Cooperative Education. Recipients of this award have gone above and beyond to support Northeastern students and the university's Co-op program over multiple academic semesters and engaged in on-campus and virtual events outside of hiring.
"Thank you for your partnership and for providing our students with meaningful professional experiences over the years," said Victoria Lee, Assistant Co-op Coordinator at NU.
VHB was nominated by Jessica Ormsby, Associate Co-op Coordinator for Civil and Environmental Engineering at NU, for hiring a wide range of co-op students over more than 40 hiring cycles—as well as the participation of VHB employees, who volunteer as guest speakers and panelists, attend career fairs, and serve as judges for senior capstone projects.
In addition, the award reflects the value of the two open houses that VHB hosts each year for Northeastern students, which offer exciting opportunities in engineering, applied technologies, marketing, and creative design spanning multiple offices in VHB's East Coast footprint, including MA, NH, RI, ME, and DC. These events are an important part of VHB's efforts to attract and support college interns and recent college graduates.
"The award is a tremendous honor," said Ken Staffier, Chief Engineer in Watertown's Land Engineering group. "It reflects the amazing partnership we've had with Northeastern over the past 20+ years that will continue for years to come."
Learn more about open positions and building a career at VHB.