Lauren Blackburn has been shaping communities in North Carolina for the past two decades, enhancing safety, sustainability, and equity. She is a Senior Project Manager in VHB's Raleigh office with a keen interest in bicycle and pedestrian mobility, comprehensive planning, roadway safety, and community health. Her comprehension of the value of transportation systems for all users of the roadway, coupled with her recognition of its pivotal role in connectivity and accessibility, serves as a driving force behind her holistic approach to projects.
She most recently helped the North Carolina Department of Transportation (NCDOT) and the City of Lumberton, NC, create a citywide plan for improving pedestrian safety. VHB later helped the agencies secure a federal grant to construct the safety projects along a specific two-mile corridor that will connect pedestrians and historically disadvantaged communities to jobs, education, healthcare, and community resources. Here's her story.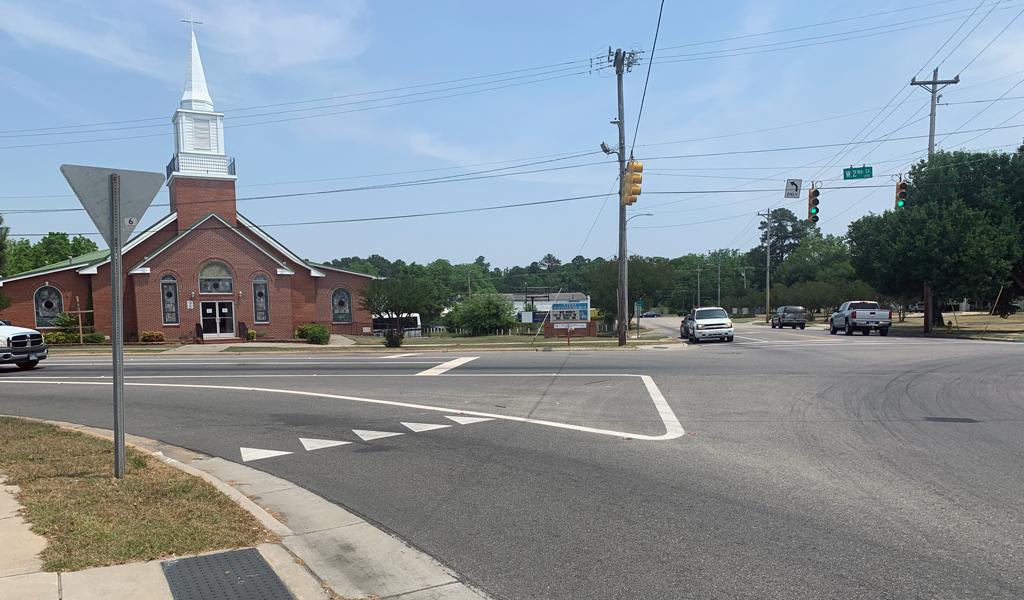 Inequities in Pedestrian Safety
Nationwide and in North Carolina, pedestrian fatalities disproportionately impact communities that are persistently plagued by poverty, including indigenous populations and racial minorities. The problem is further amplified in rural communities, like Lumberton, North Carolina, a city of 19,000 residents in the southern part of the state, right off Interstate-95. 13.3 percent of households in Lumberton do not own a vehicle, and crash data reveals that they are grappling with a higher number of pedestrian crashes and fatalities per capita, warranting an immediate need for pedestrian safety improvements.
With strong leadership from NCDOT, VHB partnered with them to plan for and implement pedestrian safety improvements that prioritize equitable access along a two-mile stretch of 2nd Street (NC 72), a major thoroughfare, within the City. It started with a Pedestrian Safety Study that VHB completed in 2022. Through this study, we were able to identify improvements, such as sidewalks, pedestrian refuge islands, and intersection crossing improvements to create better connections between neighborhoods of persistent poverty and jobs, healthcare, grocery stores, and education.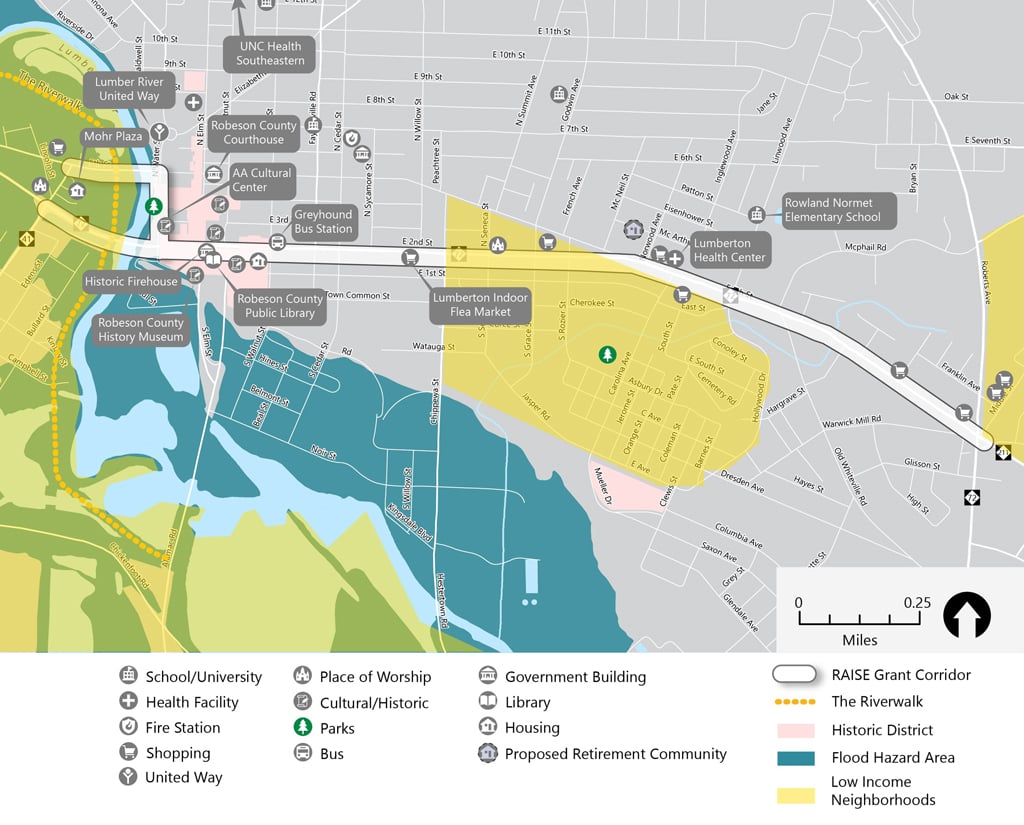 After the completion of the study, we helped the city, in partnership with NCDOT, prepare a submission for the Rebuilding American Infrastructure with Sustainability and Equity (RAISE) grant program that exists to help communities make much needed infrastructure improvements. In July, the city was awarded $8.6M in funds! NCDOT will also generously support the project by contributing the remaining project cost of $2.4M.
People who are historically disadvantaged routinely experience barriers to transportation and access to jobs, healthcare, education, and services. As transportation planners, we have to understand the everyday challenges that people face when walking along and crossing roadways. This understanding is what allows us to eliminate barriers that prevent the full participation of people groups and provide better access to resources and opportunities.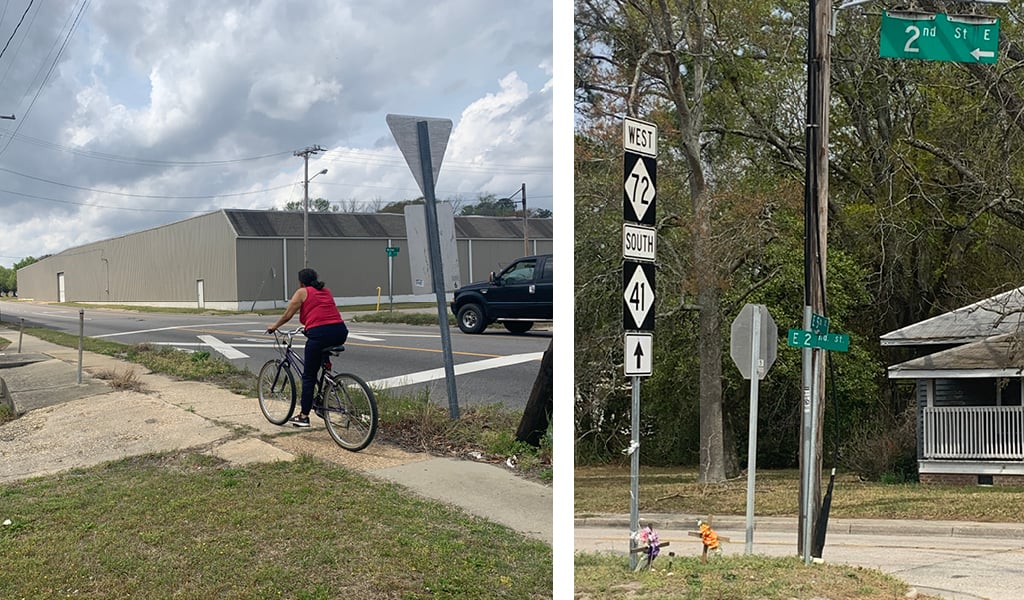 Harnessing Data for Change
While we're working on making the streets safer for pedestrians, it's important to make the environment safer for drivers, too. We reviewed crash data for vehicles traveling along the corridor and we found that more than 450 crashes occurred over five years, which is two to three times higher than the statewide average.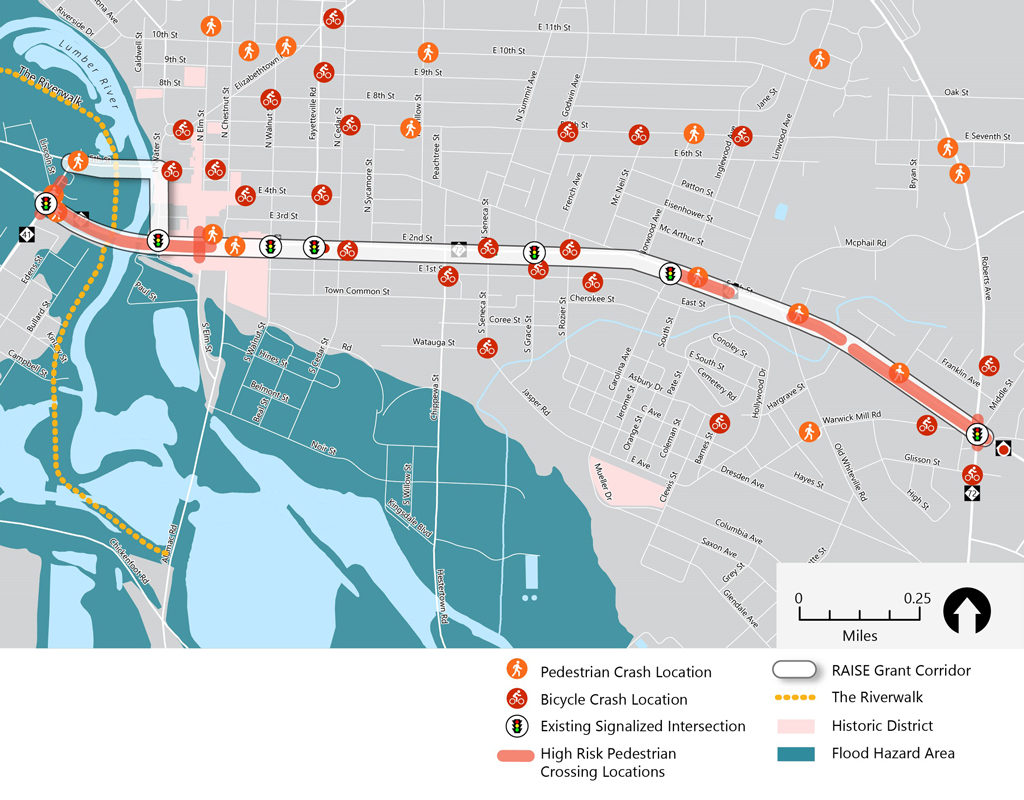 We wanted to improve the quality of life for everyone who travels along the corridor, whether pedestrian or driver, and we knew that this project had the potential to make a real difference in the lives of Lumberton residents. During the Pedestrian Safety Study, we used data and observations of safety problems to make better recommendations. The data allowed us to identify crash clusters, fatal and severe injury crash locations, and areas of high-risk pedestrian crossing locations. The team provided recommendations for improvements that include a roundabout to reduce vehicle speeds and angle crashes, high-visibility crosswalks, pedestrian refuge islands, an additional 2,280 linear feet of sidewalks, pedestrian signals, and additional overhead lighting.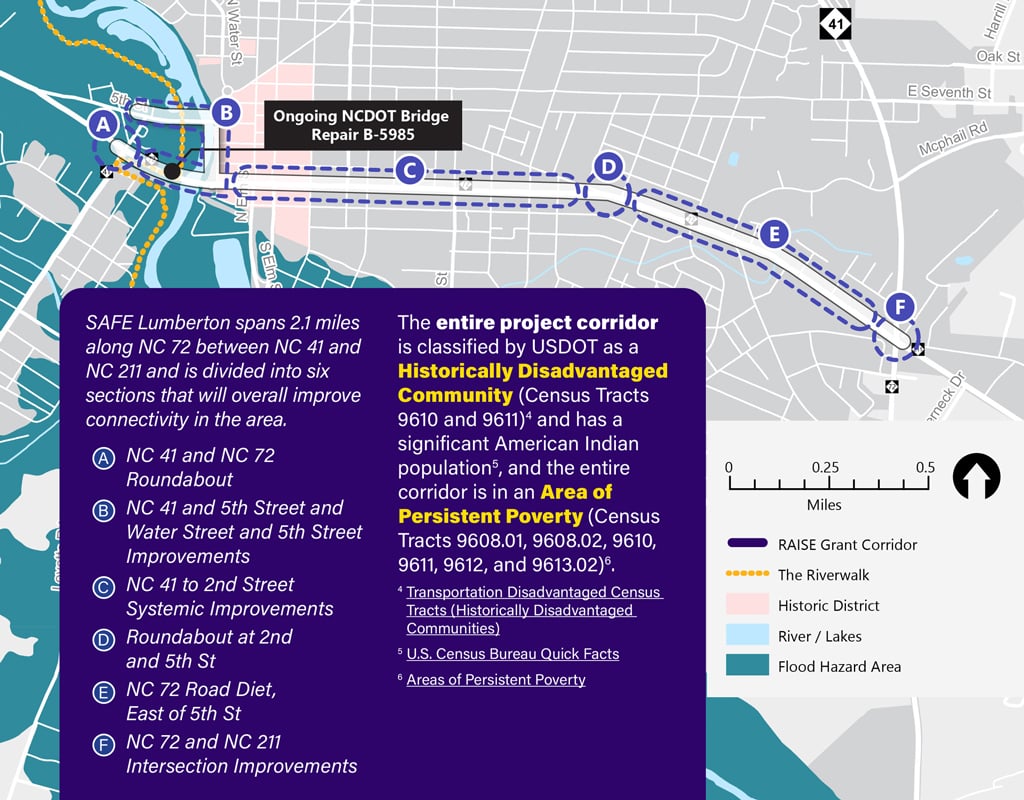 The impact of these improvements will be far-reaching, enhancing the overall well-being of the community and benefiting all who use the corridor. This multifaceted approach also contributes to creating a more Complete Street, reducing vehicle emissions, making the area more attractive and vibrant, boosting the local economy through the downtown area, and promoting physical activity and healthier lifestyles.
Listening to Lumberton: A Community-Focused Approach
One really important aspect of this project was getting support from the folks who matter most—the residents, businesses, and organizations that call the project area home. In 2022, NCDOT and the City of Lumberton reached out to the community. They did this through a five-minute survey that dug into the community's concerns for the corridor. They wanted to know how important these safety improvements were to the community, whether residents would consider walking more if the corridor was safer; and most importantly, they asked residents to share their personal experiences with the safety challenges along the corridor. They heard feedback from the survey with residents overwhelmingly in support of the changes.
The commitment doesn't stop there. NCDOT and the City are also planning to keep the conversation going as the project is designed for construction, with community events. They're bringing the project to the community, giving everyone a chance to stay in the loop, understand the progress, and provide input on the safety problems.
From Vision to Reality
A combination of public input, data, and community support helped us understand the needs of the residents and how this important project can make an impactful change, which is why we remain so committed to this project moving forward. Local businesses, public schools, the public library, museums and cultural centers, and the City Council wrote letters of support for the project. NCDOT, who will administer the project, has also been an incredible partner. Brian Mayhew, NCDOT State Traffic Engineer, led the charge during the pedestrian safety study and development of the RAISE grant application. NCDOT also hopes to use this project as an example for future partnership opportunities with other rural communities who may be experiencing similar challenges. With the completed safety study and the funding secured, implementation of these improvements can now become a reality and we're looking forward to watching it unfold.
Interested in learning more about how VHB creates safer transportation systems or need assistance navigating the grant funding process? Reach out to me via email or LinkedIn.