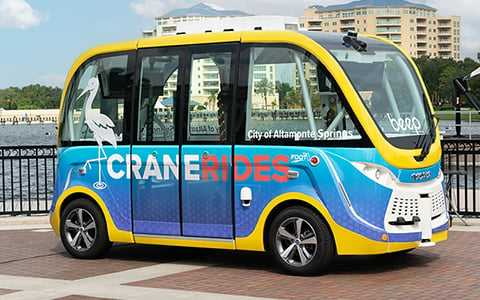 The U.S. expects to reach a tipping point with autonomous vehicle (AV) progress in the next decade that will significantly change the way Americans travel. In Florida, the City of Altamonte Springs is among the first cities in the U.S. to speed the change with the opening of a section of its planned AV shuttle route connecting people to economic opportunity, healthcare, and recreation. An integrated team of VHB planners and engineers is helping the City prepare a multi-year phased approach to elevate mobility via the Altamonte Multimodal Flexible Pathway and the CraneRIDES AV shuttle operated by Beep.
This first section of the path to open will cover almost one mile from Cranes Roost Boulevard to the Altamonte Mall. When complete, the sustainable electric vehicles will operate along a five-mile circulator route that includes Center Pointe Circle and amenities in Uptown Altamonte, healthcare at AdventHealth Altamonte, shopping at the Altamonte Mall, and job access via the Altamonte Springs SunRail Station.
Portions of the CraneRIDES AV path will parallel a multimodal flex path also designed by VHB between Central Parkway and Ronald Regan Boulevard for bicycles, pedestrians, scooters, and other modes of transportation. The two converge as a combined multimodal path at Altamonte Mall and are part of a partnership between the City of Altamonte Springs and the Florida Department of Transportation. VHB is a consultant to the City and FDOT on emerging mobility and technology programs both agencies are spearheading.
The CraneRIDES shuttles, managed and operated by Beep Inc, are self-driving but will have operators on board to manage functions such as starting the vehicle and assisting users. Electric AVs reduce carbon emissions extend mobility to a wider population, and help cities create first and last-mile connections.
VHB provided technical assistance to help the City garner a FDOT operational grant to fund the project, then led the planning and design documents for the multimodal flex path along existing public and private rights-of-way, including new midblock pedestrian crossings, bike trail and bus lane design, and coordination with Lynx bus transportation. The team's insight allowed for the seamless integration of AV technology into the design, including a review of existing facilities and the identification of routes and alternatives for throughways and both unsignalized and signalized intersections.
AV shuttles are pre-programmed with key transit stops for vehicles to navigate safely with or without a vehicle operator. A complex programming system, GPS signals and LIDAR help the vehicle respond to objects that may cross its path. The flex path and AV lane are expected to connect $1.5 billion in transit-oriented development over the next 10 years and have spurred new business, including multi-family housing.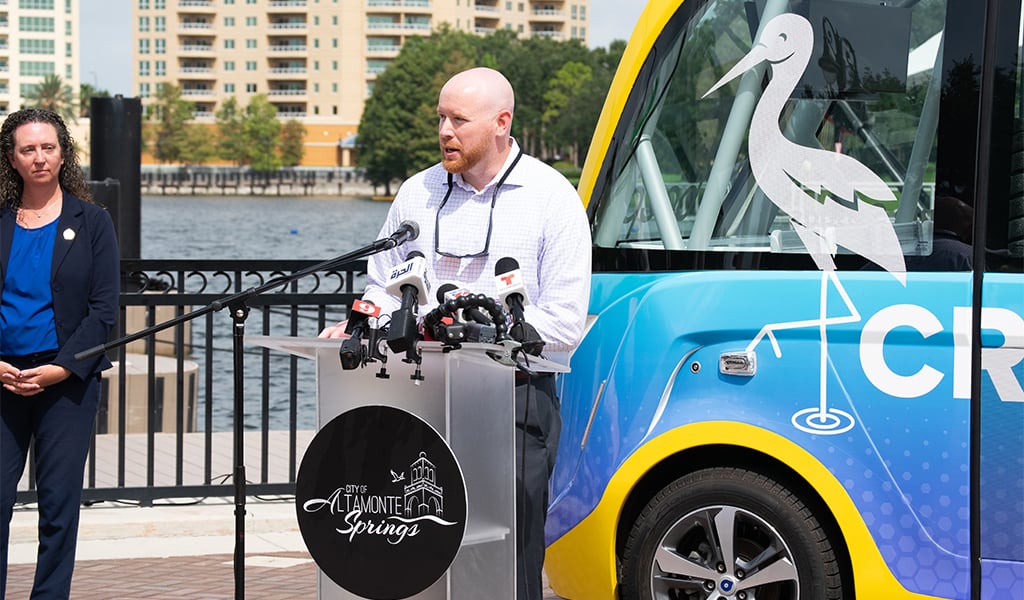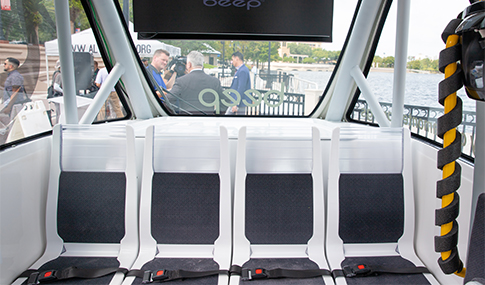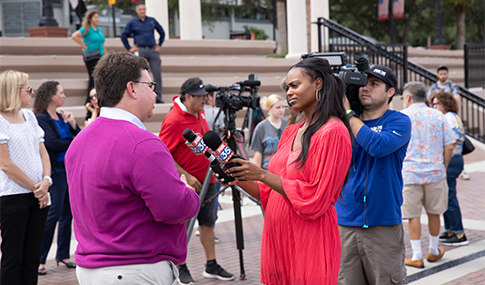 VHB has a long relationship with the City of Altamonte Springs as a go-to for smart community infrastructure projects that elevate the places where we live, work, and play—including developing the City's new Amanda Street Park. The construction of the Altamonte Multimodal Flexible Pathway is a major step in the City's overall plan to improve mobility.
"There's a lot of takeaways for small to mid-size cities from the innovative mobility solutions at Altamonte Springs," said Ryan Fetchko, PE, Transportation & Technology Engineer. "Transportation technologies like this aren't just for large urban areas and can provide measurable enhancements that attract new residents and visitors that are looking for an enhanced quality of life."
"VHB is a tremendous partner in the City's efforts to create sustainable, progressive, and forward-thinking programs," said Frank Martz, City Manager for the City of Altamonte Springs. "Beyond mobility solutions, VHB also provided street and streetscape programs, a new park design, and site-specific engineering reviews. They are a force multiplier for the City, and our capabilities are multiplied by adding VHB to our team."
In addition to the Altamonte Springs project, VHB provided guidance and insight during the development of the new Autonomous Vehicle Proving Ground in Central Florida, whose SunTrax AV test track is the largest closed urban environment for autonomous and connected vehicle testing in North America.
VHB helps cities develop grant applications, transportation improvement plans, and public-private partnerships to leverage the most opportunity to advance implementation of smart community projects like AV shuttle networks. For more information contact Ryan Fetchko.