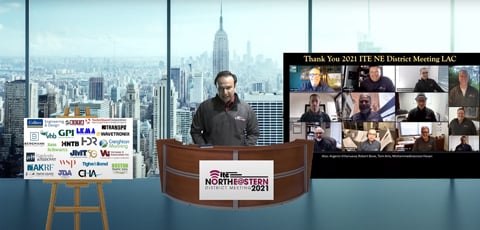 Capping off the 2021 Institute of Transportation Engineers (ITE) Northeastern District Annual Meeting's awards program, Amir Rizavi, PE, Director of Transportation Systems, was named the winner of the Harvey B. Boutwell Distinguished Service Award during this year's virtually-broadcast event. The award is the District's most prestigious honor and is annually given to an individual who has provided diligent and devoted service to ITE and the District, named in honor of "ITE Stalwart" Harvey B. Boutwell, PE.
Amir's experience spans two decades with a resume highlighted by traffic engineering services for planning, infrastructure, design, and development projects, including transformational developments in and around New York City like Greater East Midtown Rezoning, Essex Crossing, and the Industry City Innovation Economy Hub. For ITE, Amir has served in leadership positions at the Regional and International levels, was a part of the inaugural class of Leadership ITE in 2014, and was the co-chair for the 2021 Northeastern District Meeting.
"I know there have been many before me who have been recipients of this award who are very worthy, and it's truly humbling to be standing amongst all these winners," Amir said. "I'm here because of the support of my family, my friends, committee members, my ITE colleagues, and my mentors along the way. Thank you so much to VHB for all your support."
Amir also recently authored an article for ITE Journal, the organization's monthly publication, highlighting how VHB leverages technology during times of crisis and continues to spearhead VHB's Intersect technology development and client partnerships.