John Carty is one of VHB Richmond's land development engineers who recently stepped into the role of Virginia Institutions Market Leader. John has his sights set on unleashing new opportunities for higher education, K-12, and healthcare campuses across Virginia. His mission? To create vibrant environments where ideas are nurtured, research is conducted, and breakthroughs are made to enhance communities.
Higher education campuses are facing demand for growth and expansion, requiring them to innovatively adapt to attract and retain students. Since 2015, John has been a part of the University of Virginia (UVA) Ivy Corridor project, watching it transform from an underutilized lot into a prominent connection and designated entrance corridor for the Grounds—incorporating new campus buildings, parking, and landscape spaces for students, faculty, and the Charlottesville community.
Ivy Corridor is elevating UVA through sophisticated design and planning, sustainable solutions, and successful partnerships. John has learned a lot from this decade of experience, including contractor coordination, balancing multiple phases, and learning new ways to make certain all stakeholders are heard. We sat down with John to hear his insight and knowledge gained thus far and how these same practices can be applied to the diverse set of needs higher education institutions are facing today.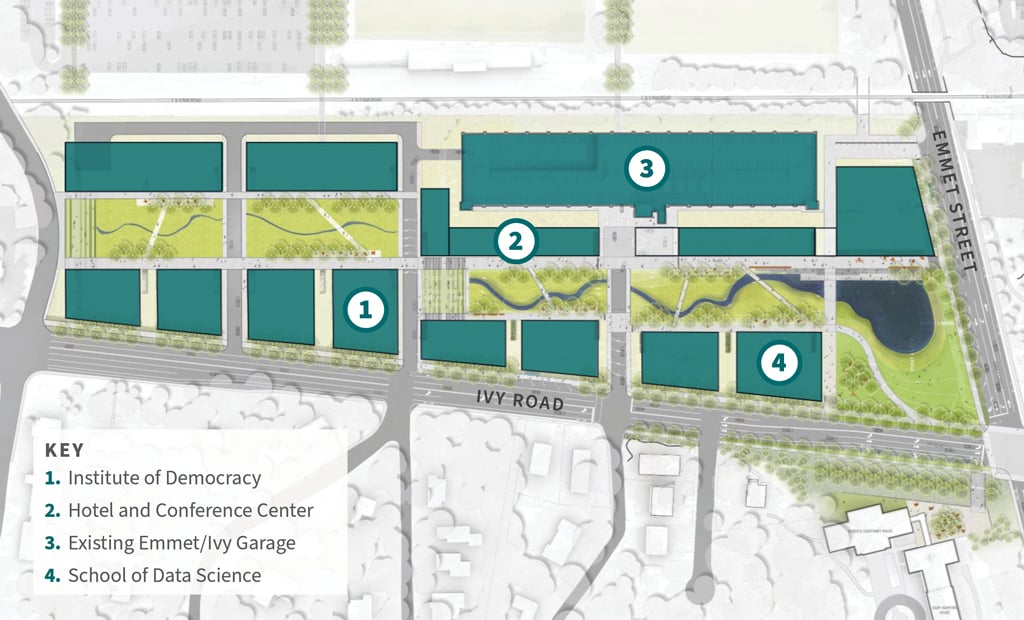 VHB: The Ivy Corridor project is being constructed in phases. Can you talk more about the different phases, and why phasing has been so significant to the success of this project?
John: This project is being developed on a 14.5-acre site that connects North Grounds, Arts Grounds, and Central Grounds. If you aren't familiar with the Grounds, this is at a significant entry point. It's a large site with multiple new buildings being constructed, requiring thoughtful planning and design integration to better manage risk, provide adaptability, remain efficient, and have better budget control. Phase I is currently underway, which kicked off in 2021, and Phase II is actively in the design stage. Meeting critical design milestones has been key to make certain this project remains on schedule, reduce number of change orders, and remain within budgetary constraints. By dividing the project into phases, which you can see below, we've been able to minimize costs in early phases without sacrificing future project needs. VHB takes an integrated approach to project delivery—bringing civil, landscape architecture, and transportation together to develop an overall plan that meets the client's goals. From there we can determine the optimal approach to phasing.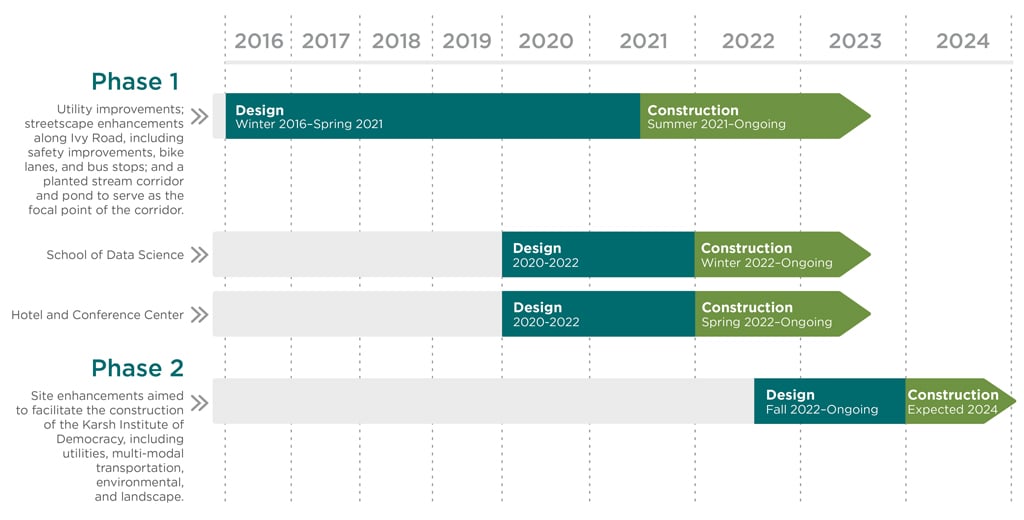 VHB: That is a complex timeline with a lot of moving pieces and parts. Can you share more about the specific strategies and approaches you've employed to handle these complexities?
John: This project is like a finely tuned machine, and we've implemented several key strategies to keep it running smoothly. One of our main focuses has been on maintaining a tight grip on the project timeline. With design and construction overlapping for different phases and within a constrained area, meeting design milestones on time is absolutely critical. To achieve this, we've adopted an active presence on site, working closely with contractors to provide clear communication and collaboration. This way, we can promptly address any issues that arise, respond to Request for Information (RFIs), and keep the project moving forward.
We also recognize the importance of public engagement on a project of this scale. Engaging the numerous stakeholders along the way—UVA, City of Charlottesville, adjacent neighborhoods, Dominion Energy, and the Charlottesville Fire Department—is not only vital for their input and satisfaction but also for aligning the project with the University's goals. We've made it a priority to lead the conversations and foster a deep understanding of the project's schedule and nuances of review processes. By actively involving the community, we make certain that their needs and concerns are addressed while staying true to the vision for Phase I infrastructure, multiple building projects, and Phase II design.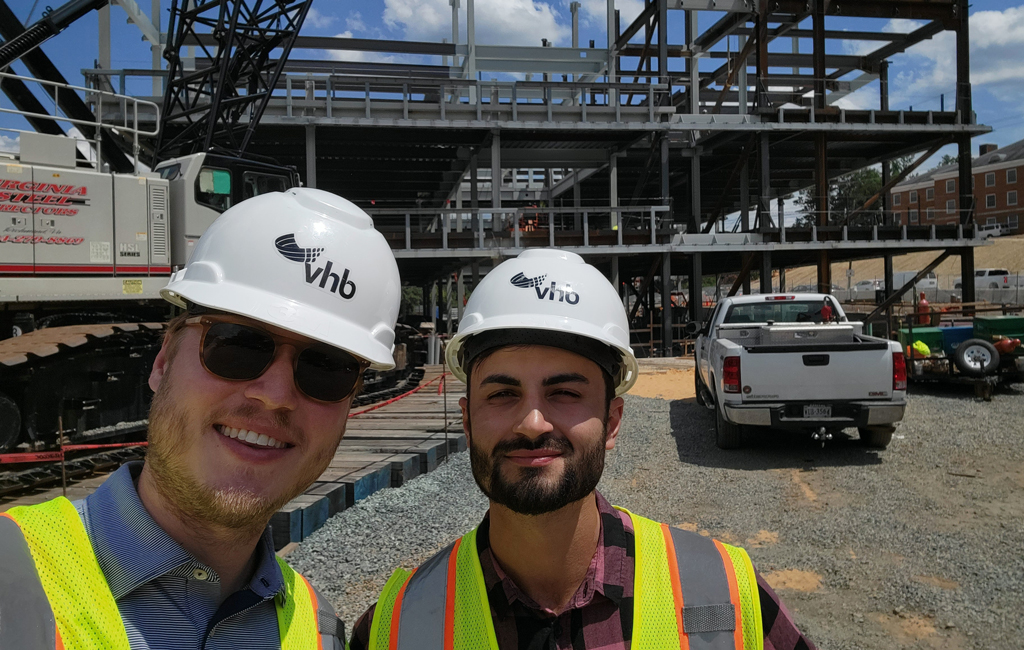 VHB: Sustainability continues to be a desire for a lot of our clients, particularly higher education institutions because they are the ones paving the way with research, green practices, etc. How was sustainability achieved for this project?
John: Sustainability has been at the forefront of our efforts for the Ivy Corridor project, driven by the University's ambitious goals. To meet these goals, we have implemented a range of strategies that promote sustainability throughout the project.
One of the primary focuses has been on creating a sustainable built environment. Each building at Ivy Corridor has been designed to meet individual LEED goals, incorporating environmentally friendly features and practices. But sustainability goes beyond just the buildings. We have also dedicated significant attention to the surrounding open spaces, integrating elements like new bike lanes and improved access to transit. These additions encourage alternative modes of transportation and reduce reliance on single-occupancy vehicles, promoting a greener and more sustainable campus environment.
Furthermore, we have implemented innovative stormwater facilities on-site, designed and developed by DumontJanks and Biohabitats. These facilities serve multiple purposes: alleviating flooding issues on Emmet Street and providing the infrastructure for potential future stormwater reclamation efforts by UVA. Not only do these stormwater elements address a critical environmental concern, but they also contribute to the overall site unification by creating an enjoyable destination for the community. They promote the development of new ecosystems and align with the University's water resource goals—preservation and cleanliness of Virginia's waterways.
By incorporating these sustainable practices, the Ivy Corridor project not only meets the University's sustainability objectives but sets an example for other institutions and communities.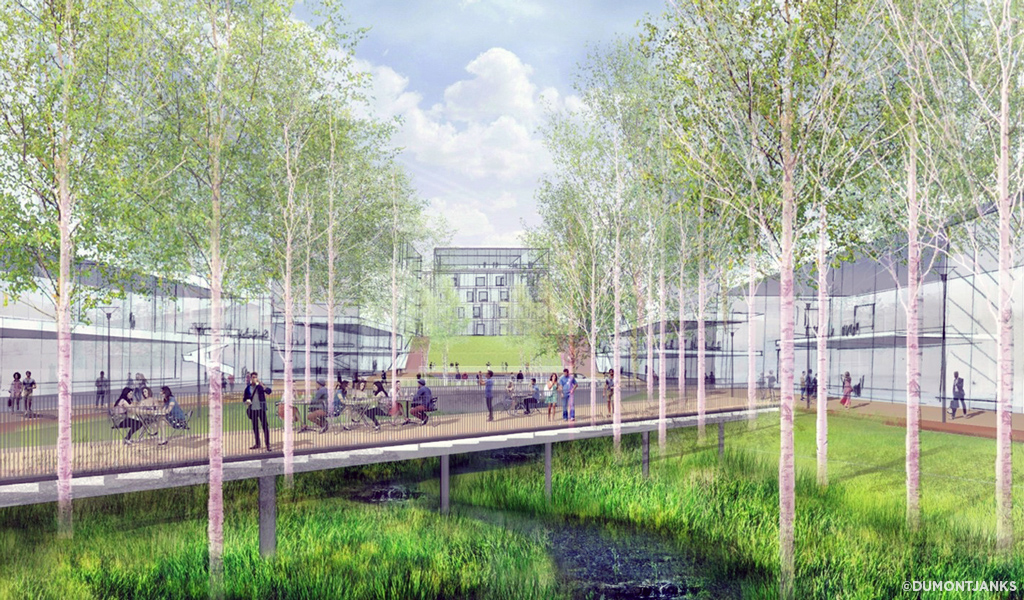 VHB: What has VHB offered/brought to the table to help stakeholders work through project complexities?
John: VHB has been involved in this project since 2014, which started as a Transportation Master Plan. Over the past decade, our role has evolved to include utility coordination, design and planning, and most recently to prime consultant for construction management. We understand project complexities can evolve and have made it our mission to proactively partner with the University and contractors to understand the impact of our design on construction schedule objectives.
With a multi-phase project like this one, construction budgets and schedules are tight, often leaving no room for deviation. To maintain cost and understand parameters early on, we partner in value management sessions with the University and contractors to identify potential cost savings before each phase begins. We also used our internal knowledge to help the University build the original budget, identifying geotechnical and environmental knowledge of the site to prevent unforeseen costs.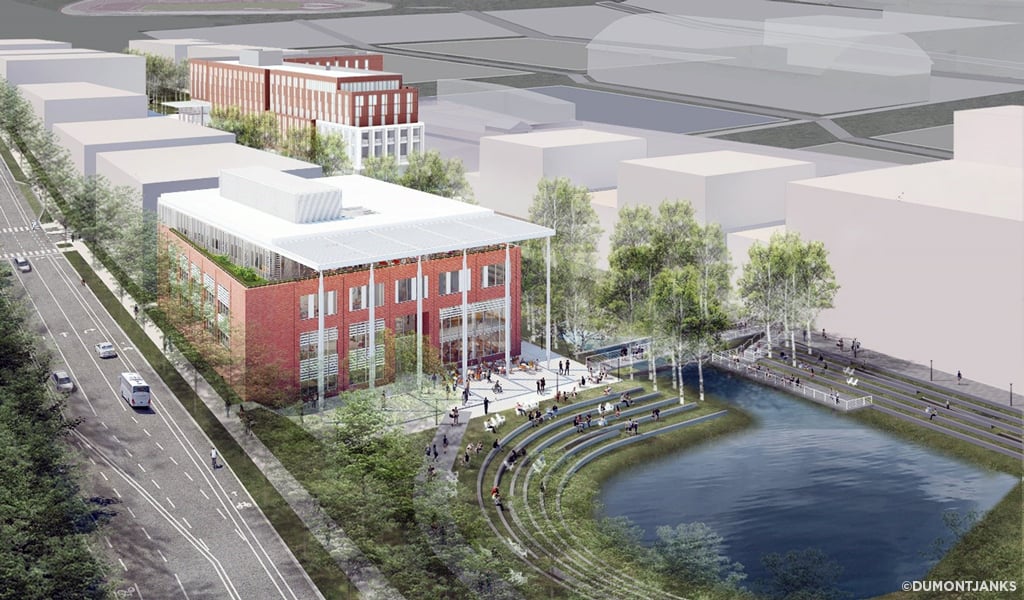 Connect with John through email or LinkedIn or discover more about our higher education experience across the east coast.