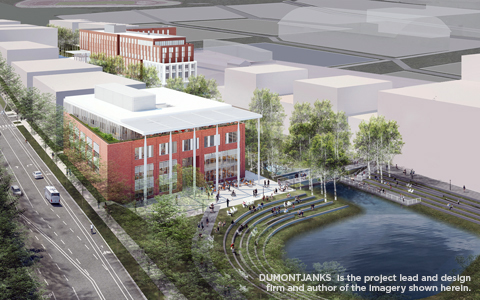 As a prominent connection on the University of Virginia's (UVA) campus and a designated entrance corridor for the City of Charlottesville, construction for Ivy Corridor is underway. The formerly underutilized site includes four blocks of property along Ivy Road between the Ivy-Emmet intersection and Copeley Road and is a key connector between the University's north grounds and central grounds. A new hotel and conference center and School of Data Science building will be constructed and occupy the corridor, in addition to future campus buildings with a range of uses. VHB is providing integrated services, including utilities, traffic, signal design, bike lane improvements, surveying, and structural services as a teaming partner to project lead and design firm, DumontJanks.
The 14.5-acre site, currently an underutilized wooded lot, is also the low point of a 200-acre sub-watershed. The project site design incorporates new stormwater facilities—relocating a stream and creating a large open water feature—to increase detention capacity for stormwater and relieve flooding that often occurs during major storm events. The central stream and water feature will also serve as the focal point for the corridor, providing an educational destination for students, faculty, guests, and residents to interact and connect with the natural elements. Biohabitats designed and developed the stormwater facilities for the project, VHB designed the on-site pipe and structure network, and Oehme van Sweden provided landscape design for the stream corridor.
"Sustainability and environmental considerations are at the forefront for this new development," said John Carty, VHB's Land Development Manager. "This project has been a concentrated effort by the University and City of Charlottesville to help with stormwater pollution prevention and improve their stormwater management impacts. The meandering stream and the creation of the water feature will unify the campus, create a destination, promote new ecosystems, and contribute to the University's water resource goals of keeping Virginia's waterways clean. It will also help improve the larger campus watershed for future development versus implementing fragmented stormwater projects over time."
A large focus of the project also includes streetscape enhancements along Ivy Road, such as wider sidewalks, new plantings, safety improvements, new bike lanes, and bus stops. Called the "public realm phase," this stage of the project kicked off in summer 2021 and will take approximately 12 months to complete. The School of Data Science began construction in fall 2021, and the new hotel and conference center will begin construction in 2022.
VHB has been providing civil engineering, surveying, and landscape architecture services on UVA's campus for more than 15 years to create a resilient campus community where students can thrive. Additional active VHB projects on campus include the Athletics Complex and Football Operations Center, the Ivy Mountain Musculoskeletal Center, transportation services for the McIntire School of Commerce expansion, and stream channel improvements, corridor studies, and sidewalk studies.
To learn more about our experience with college campuses across the East Coast, visit our Higher Education page on VHB's website.