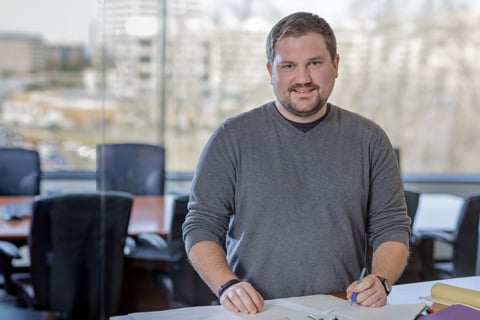 Doug Davies, PLA, ASLA, has been selected for the Urban Land Institute's (ULI) Washington Leadership Institute Class of 2024. This nine month training program gathers influential real estate and land use professionals together to grow leadership skills, forge invaluable connections, and gain industry insights through hands-on learning opportunities.
Doug manages VHB's Metro DC Planning and Design Studio and has led a range of complex plans and studies throughout the metropolitan region, including the Pennsylvania Avenue West Streetscape Design and Washinton Metropolitan Area Transit Authority (WMATA) Joint Development Feasibility Studies. His involvement in the ULI Leadership Institute program will provide opportunities to engage and collaborate with multidisciplinary teams across the region. It will also bring new perspectives and reveal an in-depth understanding of the area's evolving landscape, enabling him to contribute meaningfully to the realm of community development.
"This selection is well-deserved," said Joe Wanat, PE, PTOE, ENV SP, Managing Director of Metro DC. "Doug has a wealth of experience as a landscape architect and planner working with developers, transit agencies, and state DOTs to advance sustainable, transit-oriented development in our region. Our clients and VHB teams will benefit from the knowledge Doug will contribute and bring back from this ULI program."
With more than a decade of experience, Doug is also a member of the Potomac Chapter of the American Society of Landscape Architects and the American Planning Association.
To learn more about ULI's Washington Leadership Institute or VHB Planning and Design, contact Doug via email or connect with him on LinkedIn.