The Pennsylvania Avenue West (Penn Ave West) Streetscape design won an Honor Award in the Design-Unbuilt category from the American Society of Landscape Architects (ASLA) Potomac Chapter. Announced last week at their 2022 Awards Gala, ASLA Chapter members and industry professionals gathered to network, learn, and celebrate a multitude of award-winning projects across the Metropolitan Washington DC area. As the landscape architect for Penn Ave West, VHB's design introduced multimodal amenities, including protected bike lanes; improvements to the pedestrian experience to safely connect destinations and neighborhoods for all users; and enhanced sustainability through the introduction of green infrastructure.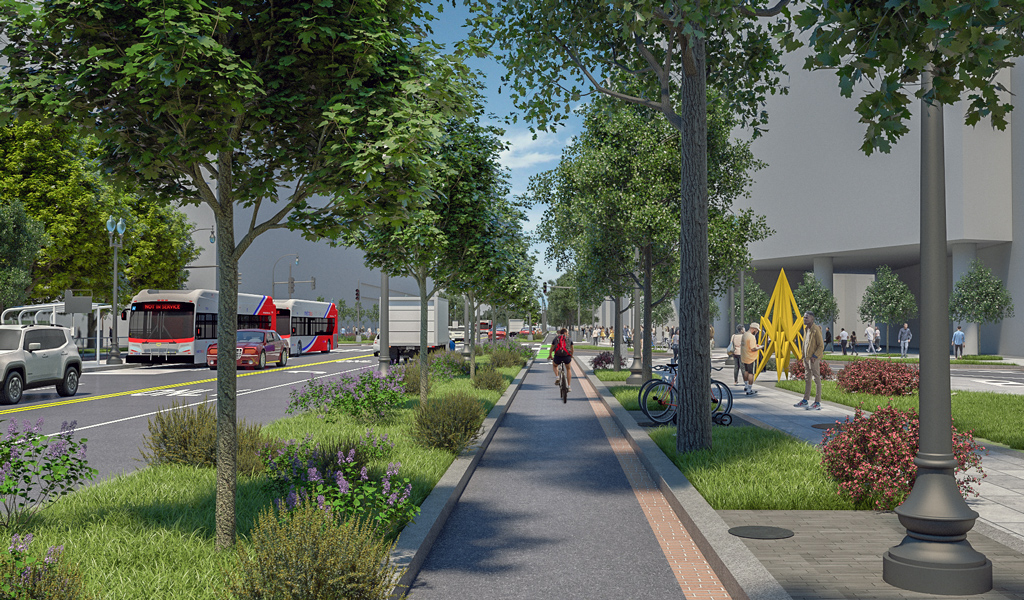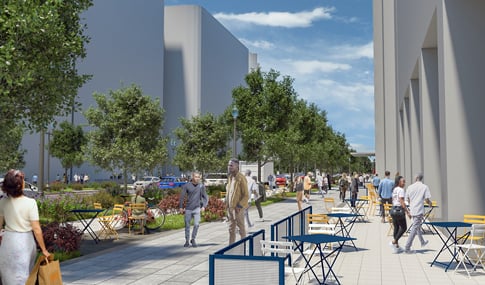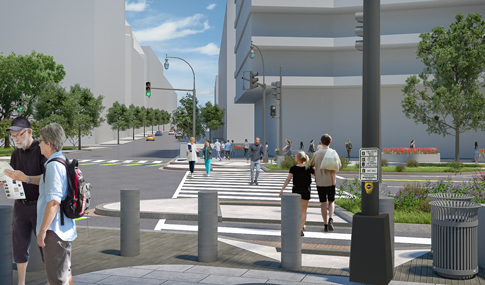 Penn Ave West connects the White House to Washington Circle, linking national embassies, hotels, eateries, and George Washington University to the center of DC. While its counterpart, Penn Ave East, is globally recognized for connecting notable institutions such as the White House, National Archives Museum, and the U.S. Capitol, Penn Ave West lacks recognizable character, pedestrian and bicycle amenities, and cohesive materials and plantings to keep all users of this linear corridor safe and secure.
"VHB helped DDOT and the Golden Triangle Business Improvement District develop their collective vision for the project that would improve travel for pedestrian, bicycle, and vehicular traffic and amplify its important roles as a connector to iconic destinations," said Doug Davies, PLA, ASLA, Director of Planning and Design for VHB's Metro DC office. "As an economically and culturally thriving area, Penn Ave West will greatly benefit from an improved streetscape, providing students, residents, and tourists with better connectivity to the heart of DC."
The streetscape design includes reducing the existing six lanes of vehicle traffic and two lanes of on street parking to only four lanes of vehicle traffic. This reduction will allow for new bike infrastructure with protection from vehicles, space for pocket parks, wider sidewalks, public seating, and public art. This reduction of impervious surfaces also allows for enhanced stormwater management, including bio-retention cells and pervious pavement treatments to further reduce the amount of water entering the sewer system.
VHB and DDOT partnered together to conduct an extensive public engagement process that was employed to make certain that voices from all user groups were heard. This included a combination of in-person and virtual meetings, and a project website that was updated as the design progressed. The streetscape design also required approval from a multitude of stakeholders, including the Commission of Fine Arts.
To learn more about the Penn Ave West Streetscape Design, contact Doug Davies.