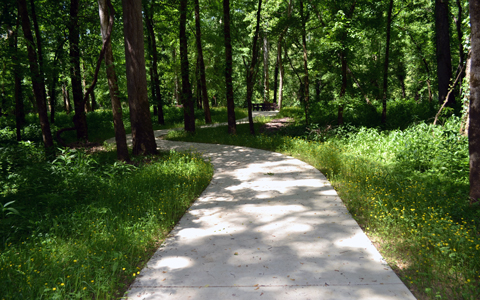 Mammoth Cave National Park celebrated the completion of the pedestrian bridge and 0.3-mile extension at the Echo River Springs Trail this spring. The 0.7-mile paved loop, once a dirt foot path, provides wheelchair accessibility and includes tactile, audio, and braille interpretive displays throughout. The trail upgrades align with the National Park Service's (NPS's) commitment to providing an inclusive and equitable experience for every park visitor. Dedicated to reimagining the built environment to be more sustainable, resilient, and equitable, VHB provided National Environmental Policy Act (NEPA) compliance, trail design and engineering, and construction administration services for this project.
The Echo River Springs Trail is a fully accessible trail that offers an engaging trail experience for a variety of visitors. With an eight-foot-wide paved path that meanders through lush forest, users can enjoy scenic views at various outlooks, fully accessible picnic tables, interpretive displays, audio/visual aids, and the newly constructed pedestrian bridge over the Echo River. This scenic trail offers views of the Echo River springs, wildlife spotting, and highlights the Green River. One unique quality of this trail is the overlook points along the trail, including the newly installed bridge, that were specifically designed so that railings did not obstruct views for people who use a wheelchair or mobility chair.
The NPS began their commitment to accessibility in 2012 by establishing an Accessibility Task Force. This multidisciplinary task force created a strategic plan with specific tactics defined for increasing not only infrastructure improvements for physical/disability accessibility, but for enhancing activities and programs for deaf/hearing loss accessibility, blind/low vision accessibility, and cognitive/learning disability accessibility. The task force and strategic plan serve as a guide for future improvements across all 423 national park areas.
"We are proud of the NPS for the steps they've taken to make these unique natural features accessible to all," said Logan Yeingst, Landscape Architect with VHB. "Seeing the way this project implemented the principles of universal design inspires our team to consider creative and inclusive approaches to improvements in all our projects."
In addition to the Echo River Springs Trail, VHB has partnered with the NPS on additional projects, including four miles of cave trails at Mammoth Cave National Park to be inclusive of diverse groups. VHB also assisted with the Targeted Accessibility Improvement Program (TAIP) at Thomas Jefferson Memorial in Washington, DC, to improve both physical and programmatic accessibility from entry to exit for a broad range of abilities. Prior to this project, visitors approaching the memorial had to travel 1,000 feet from the south side to reach the accessible entrance.
For more information about the types of services we provide for the National Park Service, visit our Federal Land Management page on our website or hear from our Federal Market Leader, Nancy Barker, on how we are helping to preserve America's national treasures.