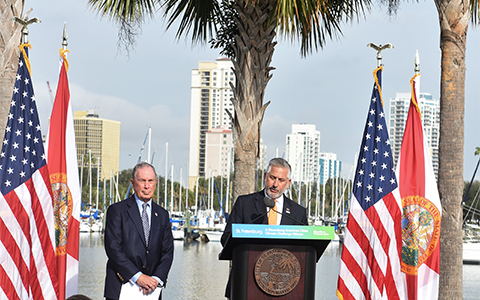 Sustainability is more than a buzz word to the City of St. Petersburg, Florida, a rapidly growing historic resort city on the shores of Tampa Bay and Boca Ciega Bay. St. Pete is the first city in Florida and the 20th in the United States to commit to becoming completely reliant on clean energy sources. It is also one of more than 57 U.S. cities to sign the Chicago Charter, a commitment to further reduce greenhouse gas (GHG) emissions. For help making these ambitious goals a reality, the City partnered with VHB to develop a comprehensive Integrated Sustainability Action Plan (ISAP) as a blueprint for committing to clean energy in action. Now complete, the ISAP is catalyzing new projects and commitments to sustainability in neighborhoods across the city.
A significant portion of the ISAP involved analyzing data from the city's first-ever GHG inventory and making recommendations for the immediate and long-term reduction of harmful GHG emissions throughout St. Pete. VHB also addressed the effects of climate change, developing a 100 percent clean energy plan, as well as recommending measurable performance targets. Extensive outreach and stakeholder engagement were critical to the success of the project.
"Our team dispersed across the city to gather input from community members at sustainability summits, business meetings, interfaith workshops, and dozens of other gatherings," said Ben Siwinski, Managing Director of VHB's Gulf Coast offices and a resident of St. Pete. "St. Pete is a diverse community and its residents provided us with important concerns about vulnerable populations and great ideas about improving access to environmentally-friendly programs and services."
As a result of the ISAP conversations and survey responses, two issues were raised as points of major concern:
1) Sustainable action across the city must be tied to racial and socioeconomic equity, in particular via access to education and employment opportunities.
2) Citizens need avenues for equal access to multi-modal transportation and affordable housing.
One place where these issues converge is in the neighborhoods surrounding the 85-acre Tropicana Field site, home of the Tampa Bay Rays Major League Baseball team and an historic Black community.
VHB completed a redevelopment study on the Tropicana Field site with green infrastructure, smart city, and healthy community design as key drivers of public and private investment in the area. Engaging a cross-discipline team of engineers, scientists, and planners across the company, VHB proposed recommendations for mobility and transportation, governance and policy, economy, environmental and sustainability strategies, and community health in and around the redevelopment site. VHB's Tropicana Field recommendations are a key proponent of the city's recent call for proposals for a master plan to develop the site.
The strength of St. Pete's ISAP was also a factor in the city being selected by The American Cities Climate Challenge (ACCC) as one of only 25 cities to meaningfully deepen and accelerate their efforts to tackle climate change and promote a sustainable and resilient future for their residents. The prestigious two-year program is funded by Bloomberg Philanthropies and comes with significant support in funding and experience for local-focused programs that help meet carbon reduction goals and address climate change.
VHB is now working with the city on its StPete2050 city-wide visioning plan to chart the course of the city's growth and development for the next 30 years, starting with avenues for community conversations via surveys and stakeholder workshops.
"VHB has been a responsive and community-minded business to work with in planning and creating a safe, healthy, and resilient city," said Sharon Wright, Director, City of St. Petersburg Office of Sustainability & Resiliency. "VHB has brought together and provided technical resources that helped develop best practices in sustainability for communities that encompass a wide variety of economic, environmental, and social issues. We are excited about the future of St. Pete for our residents and visitors."