Moffitt Cancer Center in Tampa, Florida, is experiencing growth and a significant increase in new hospital facilities. VHB designed a landscape plan for one of its newest facilities that elevates the role of nature in the healing process, listening to input from patients, families, caregivers, and a beloved colleague undergoing treatment at Moffitt. The enhanced landscape at the entry arrival, garden and courtyard spaces will be a significant part of the new Moffitt McKinley Hospital, a 10-story, 498,000-square-foot inpatient surgical hospital on the McKinley East campus. At the hospital topping out ceremony celebrating a construction milestone, Moffitt administrators lauded the design team, patients, and Moffitt's Patient and Family Advisory Council for guiding the development of the new campus building and landscape design with a warm, welcoming environment. The facility is scheduled for completion in the summer of 2023.
VHB landscape architects are teamed with HDR Architecture, the building's design architect, to deliver an elevated healthcare experience via the built and natural environment at the nationally recognized hospital and research facility. Moffitt McKinley Hospital will be situated on a 21-acre site and connects via pedestrian bridge to the existing Richard M. Schulze Family Foundation Outpatient Center on the McKinley West campus. Its expansion increases patient capacity by 65 percent.
"Healthcare exteriors and landscapes play an important role in the healing environment in both active and passive ways, such as providing views of nature from the indoors or via peaceful pathways to walk outside," said Ivy Clinton, Gulf Coast Design Studio Lead. "At Moffitt, we are extending healing beyond the walls of the healthcare environment. Evidence-based healthcare design shows the close relationship that access to nature and natural light have on positive patient outcomes, promoting a sense of well-being, rest, and renewal."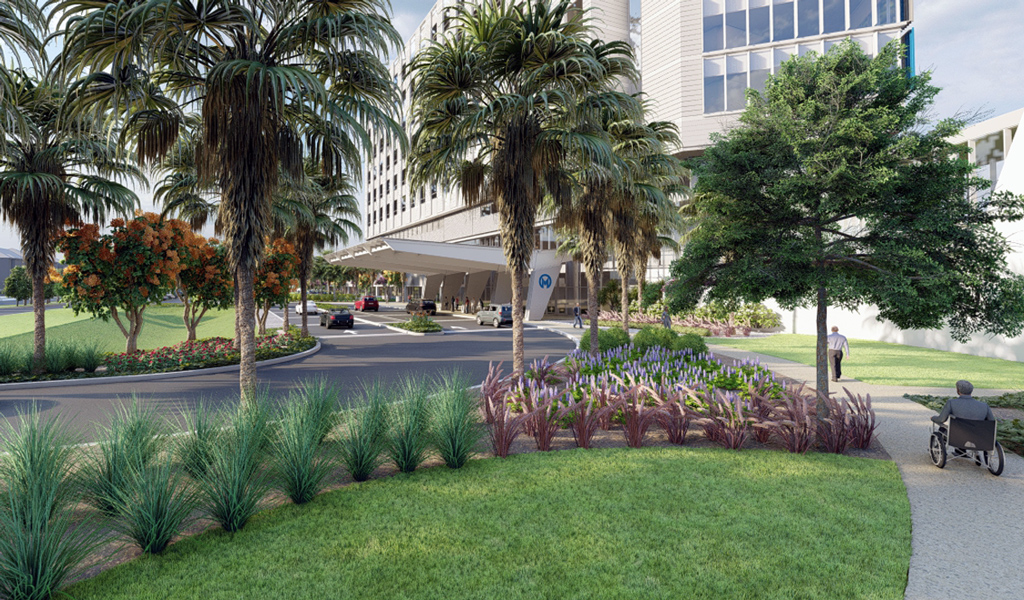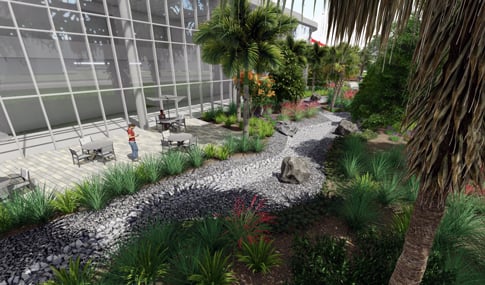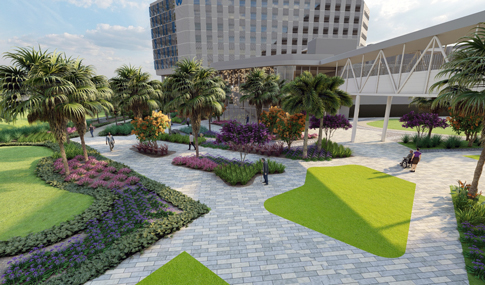 Ivy's colleague Bill Bowers, who led VHB's Gulf Coast landscape architecture practice, worked closely on the landscape plan for Moffitt while he was also a patient there. Bill was a mentor and strategic thinker, whose collegiality and keen insight helping healthcare clients made him a favorite of VHB Gulf Coast clients and colleagues. Bill left a lasting impact on the project that VHB continues to shepherd.
"As both a patient and designer, Bill brought a heightened level of empathy and insight to the landscape," Ivy explained. "For example, Bill understood that just driving up to a cancer treatment center for the first time can be an anxiety-inducing and confusing experience for patients and their families. We designed a welcoming entry and arrival sequence for the new hospital lined by tall palm trees and a dry creek bed that guides pedestrians through the entry sequence and makes clear where to park or drop-off a patient."
VHB's approach to the healthcare landscape emphasizes the inside-out. The team maximized landscape features around windows so people will have ready access to natural light and the experience of being outside. The dry creek bed of river pebbles and larger stones will meander throughout the site and runs along a network of landscaped sidewalk pathways and courtyards that connect the campus and allow visitors and staff to "make their own loops" during walks of respite outdoors. A western garden focused on native plantings for a woodland affect with layers and understory plantings will offer escape and shade near the entry plaza, as well as views of nature from the hospital dining facility and hallways.
VHB is also providing engineering services to upgrade a central energy plant on the Moffitt campus. To find out more about how emphasizing healing environments via landscape design, contact Ivy Clinton.