The Society for Marketing Professional Services (SMPS) hosted their 44th Annual Marketing Communications Awards (MCA) this month and VHB's marketing team was recognized with an Award of Excellence in the Project Pursuit Category. The marketing team's winning submission featured their proposal response and shortlist presentation for the Long Bridge preliminary engineering contract—one of the most vital transportation projects in the Mid-Atlantic region. VHB's graphically pleasing, compelling, and compliant pursuit response contributed to being selected for this $21 million project in January 2021.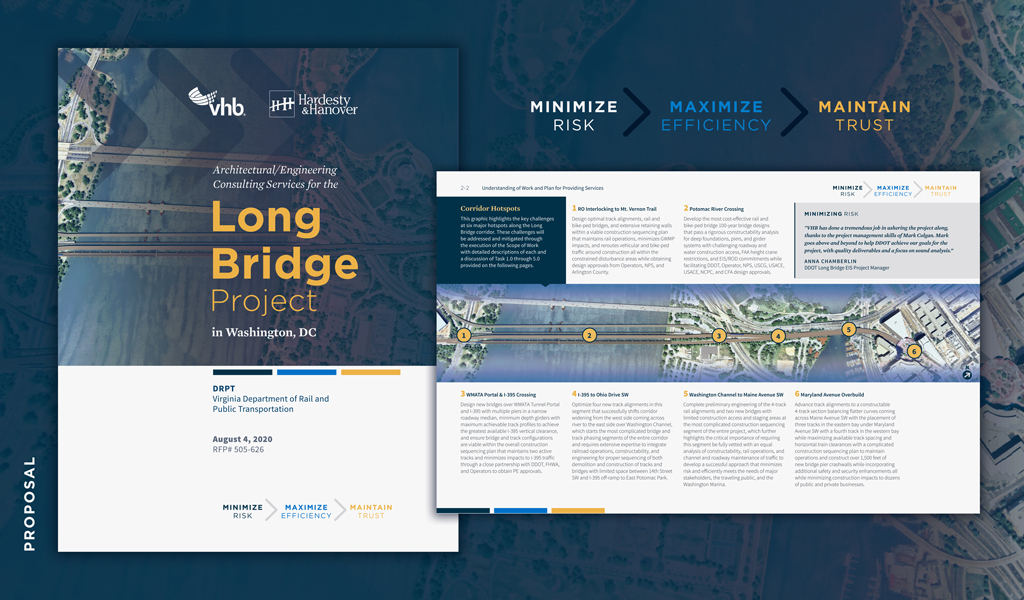 This significant team effort required the collaboration of technical and marketing staff across VHB's footprint. Our national rail experience, understanding of the project site, management of complex projects with multiple stakeholders, and individual proficiency of our technical staff were all strengths that needed to be highlighted throughout our submission.
As the only railroad bridge connecting Virginia to Washington, DC, the expansion of Long Bridge will double the long-term capacity for passenger and freight rail traffic and improve reliability of rail service along the entire east coast corridor. Prior to the preliminary engineering phase, VHB developed the Long Bridge Environmental Impact Statement (EIS), which contributed to building a trusted relationship with major project stakeholders and a better understanding of the intricacies for such a complex project.
"This experience on the EIS phase helped the project pursuit team identify key repetitive themes that were emphasized throughout the proposal submission and shortlist interview response," said Diane Gillman, Pursuit Marketing Lead. "We were creative in how we communicated them through fly through visualizations, custom graphics and maps, leadership profiles, and image-heavy project qualifications."
Winners of the SMPS Marketing Communication Awards were honored at a virtual show during the organization's annual conference, Build Business. VHB is a long-time supporter of SMPS National and several SMPS Chapters across the East Coast, and encourages employees to mentor, network, and pursue additional advancement opportunities. Our values align with SMPS's mission of advocating, educating, and connecting leaders in the building industry.