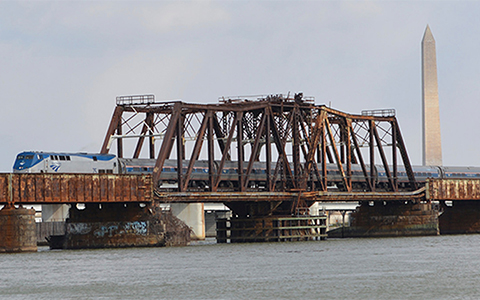 The Virginia Department of Rail and Public Transportation (DRPT) announced the approval to proceed with preliminary engineering for the Long Bridge project, the next major milestone for transforming the eastern seaboard's freight and passenger rail network. As the only railroad bridge connecting Virginia to Washington, DC, the expansion of Long Bridge will double the long-term capacity for passenger and freight rail traffic and improve the reliability of rail service. In addition, this expansion is a regional asset that will contribute to a more cohesive railroad network connecting the metro areas between Richmond, VA, and Baltimore, MD, and provide riders with improved mobility and connectivity. This is a critical step for moving the project closer to construction and a testament to the ongoing leadership and commitment from the Commonwealth of Virginia, DRPT, the District Department of Transportation (DDOT), the Federal Railroad Administration (FRA) and the Virginia Passenger Rail Authority (VPRA).
"As a partner on the most recent phase of Long Bridge, we had the pleasure of witnessing DRPT's strong commitment to the economic vitality of communities and businesses across the Commonwealth," said Mark Colgan, VHB's Project Manager for the project. "Their passion for rider advocacy and offering more transportation options with projects like this is contagious. We're excited to work on this next phase with such talented DRPT and DDOT staff who are committed to success."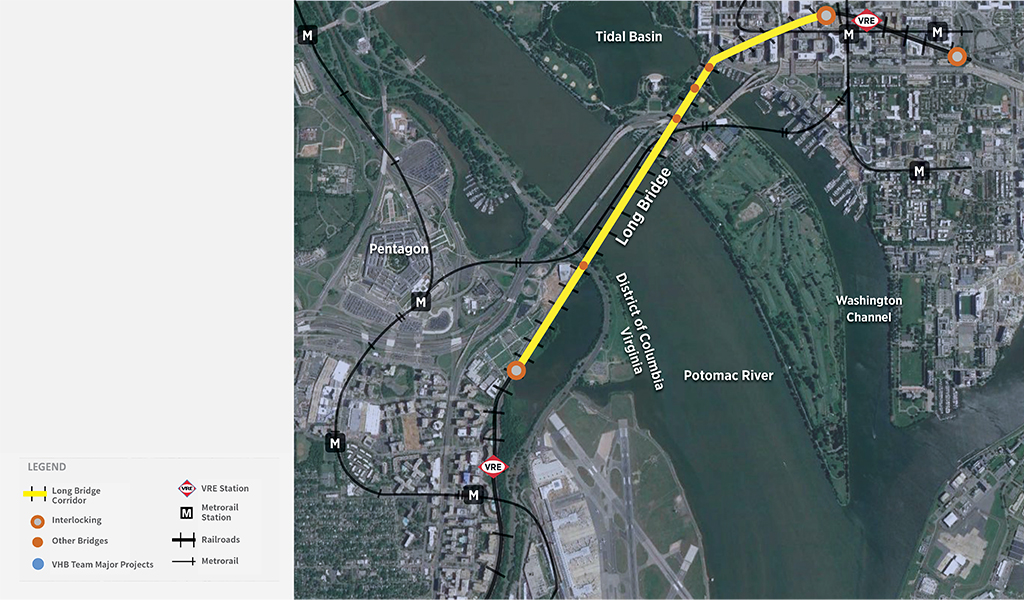 Built in 1904, the existing Long Bridge is a two-track railroad bridge that spans the Potomac River, connecting Arlington, VA, and Washington, DC. Used to service both local commuters and long-distance travelers along this freight corridor, the existing two-track capacity does not meet the demand for this major crossing and often suffers from bottlenecking and congestion. The improvements to Long Bridge consist of doubling the capacity of the crossing by constructing a new two-track bridge adjacent to the existing structure. The project also includes 1.8 miles of track improvements, along with numerous other bridges to accommodate the increased capacity. In addition, multi-modal transportation efforts will be incorporated into this project to include a new bicycle/pedestrian bridge across the Potomac adjacent to the railroad bridges, as well as a new bicycle/pedestrian path over Maine Avenue SW. This is the first bicycle/pedestrian connection across the Potomac River, allowing for more transportation options between Arlington and Washington, DC.
With the completion of the National Environmental Policy Act (NEPA) review process in September 2020, the preliminary engineering phase is the next critical step for bringing this project closer to construction. VHB led the NEPA process for DDOT, resulting in the Record of Decision that allowed this project to advance. After completing the project Environmental Impact Statement (EIS), VHB was selected by DRPT to lead preliminary engineering. Services will include 30 percent design plans for the new railroad bridge and the associated railroad corridor improvements in the District and Northern Virginia, the bicycle/pedestrian bridge, stakeholder management, survey, geotechnical engineering, utility design, Maintenance of Traffic Plans, Right-of-Way Acquisition and Relocation, and bidding support. Hardesty & Hanover will collaborate on structural design, while Schnabel Engineering will assist in providing geotechnical engineering. Additional specialty teaming partners will support with survey, construction cost estimating, constructability, and right-of-way acquisition.
"Our goal is to minimize constructability and permitting risks, maximize efficiencies in project design through our work on the EIS phase, and maintain our strong partnership with DRPT and project stakeholders," said Rick Carey, VHB's Deputy Project Manager for the next phase.
With Amazon's second national headquarters located at National Landing in Arlington, VA, a plethora of public transportation projects are in the works for this region, in addition to Long Bridge. These projects include multiple rail station improvements and enhancements, bus lane extensions, reconfigured roadway networks, and a new pedestrian connection to Ronald Reagan National Airport. These additional transportation initiatives are necessary to support the flourishing development in National Landing as a result of Amazon's second headquarters anticipated to bring over 25,000 jobs to this region over the next decade.
Visit our Railroads page on VHB.com to learn more about our railroad and transit experience across the East Coast. Have questions, or need additional information about the Long Bridge Project? Contact Mark Colgan at mcolgan@vhb.com.