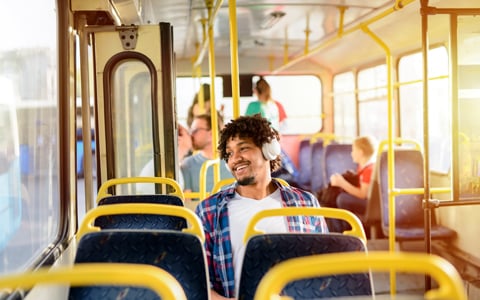 Multi-tasking is a necessary part of modern life. In big cities like Atlanta, the places people go to access transportation and make connections via buses, trains, and micro-modes need to multitask, too. VHB is helping the Metropolitan Atlanta Rapid Transit Authority (MARTA) improve access to public transportation across the region via new local transit hubs which will aggregate and improve rider mobility options for bus travelers in the communities. As a subconsultant, VHB is providing feasibility studies on four key sites: South DeKalb Mall, Clayton County Justice Center, Stonecrest Mall and very soon, Greenbriar Mall.
"Today's transit hubs—also known as mobility hubs—need to connect people, transportation, and a wealth of services," said Grady Smith, Southeast Regional Transportation Market Director. "The Atlanta metro region sites will be co-created with the community with an emphasis on flexibility, place-making, infrastructure enhancements, and incorporating healthy community design as essential factors in mobility hub success."
The transit hub studies are informed by various county Transit Master Plans, Comprehensive Transportation Plans, and city planning visions and programs. VHB has completed many of the plans, which recommend exploring hubs to increase mobility options in the region and spur economic growth, social equity, and resilient transportation networks.
The purpose of MARTA's transit hubs is to accommodate bus-to-bus transfer and connections to mobility-on-demand such as Uber and Lyft and micro-modal services such as bikeshares. They also provide coordination with amenities such as shelter, ticket kiosks, vending, and restrooms. VHB's feasibility studies for the hubs includes environmental impact screening, bicycle and pedestrian planning, traffic impact analysis, conceptual design, preliminary cost estimates, and implementation planning—all centered around stakeholder engagement.
Transit hubs bring together multi-modes of transportation in a location that has demonstrated a high propensity of need. They can come in all sizes, from a small hub located in a parking lot to a busy commuter hub that connects local fixed-route bus service to rapid transit with mixed-use development such as retail and residential housing just steps away. A mature transit hub can also help spur transit-oriented development and include community amenities such as parks or fresh food sales. A people-focused transit hub allows passengers to make a transfer without crossing a busy road or be exposed to inclement weather, access real-time travel information and ticketing, charge electronic devices, mail a package, and more.
"Transit hubs have the ability to address issues of social equity in communities by expanding access to jobs, healthy food, recreation, and social services," said Brent Lacy, Principal Transportation Planner. "These hubs are the first of their kind for MARTA and are extremely important to each of the Authority's Planning, Design and Operations departments. The breadth and depth of the research and recommendations going into the transit hubs reflects MARTA's commitment to invest in communities across metro Atlanta by improving mobility."
The strength of VHB's integrated team approach and depth of knowledge in transportation planning and design, engineering, and real estate development allows the transit agency and local municipalities to navigate the modern mobility hub project cycle from conducting feasibility studies to implementing smart technologies and designing stations.
The first study, South DeKalb Transit Hub Site, is nearing completion. The second study at Stonecrest will follow. VHB's performance on the DeKalb County studies has led to additional assignments on two more metro Atlanta transit hubs for MARTA: the Clayton County Justice Center and the Greenbriar Mall transit hubs. The 30 percent design plans have also been identified as additional services.
Following the recommendations put forward in the feasibility studies, MARTA plans to construct many of the transit hubs by 2023. For more information about how VHB is enhancing communities through mobility, visit our Transit Authorities page.