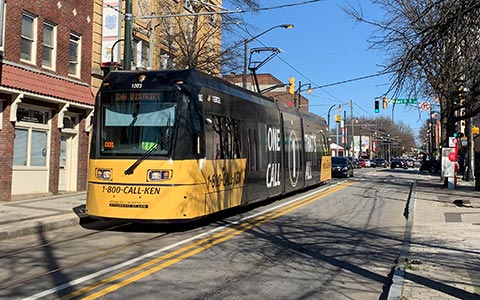 Expanding access to transportation does more than move people from place to place, it can connect communities to jobs, education, health and wellness, and entertainment. Atlanta's public transportation operator, Metropolitan Atlanta Rapid Transit Authority (MARTA), recently selected VHB to conduct a six-month evaluation of streetcar extensions into Atlanta's core neighborhoods along the BeltLine corridor—the BeltLine Light Rail Transit (LRT) East Extension Concept Feasibility Study. The study is part of MARTA's comprehensive plan to expand high capacity access and improve connectivity within the urban core since the passage of the 2016 More MARTA Referendum.
The Atlanta BeltLine project is a 22-mile redevelopment program for trails, parks, transit, housing, and economic development along historic railroad corridors encircling the Atlanta urban core. Multiple studies have been conducted along the BeltLine corridor, including a 2012 EIS, and focused segment planning and concept development by the Atlanta BeltLine Inc. (ABI). MARTA is presently undertaking the preliminary engineering of the East Extension with an eye on future extensions. This study will assess right-of-way, adjacent developments, physical constraints, cost estimates, and potential risks and opportunities for the various alternatives connecting the Atlanta Streetcar to the east side of the BeltLine, from Lindbergh MARTA Heavy Rail Station south to Memorial Drive.
VHB is collaborating across multiple offices, bringing an objective viewpoint to the project to provide MARTA a technical assessment for decision-makers. As part of the Study, VHB's transportation, engineering, and planning teams will review prior work; consider alignment variants and more recent development, land use and demographic changes; and evaluate technical feasibility of the identified alternatives.
VHB's national Transit & Rail team's experience delivering objective, technical evaluations, means the team is prepared to deliver a comprehensive review for the East Extension that helps MARTA make smart, informed decisions about moving forward. A critical component to advance the project will be continuous and effective involvement of key stakeholders, such as ABI and the City of Atlanta, throughout the process.
"Our selection means MARTA trusts VHB's approach to review the feasibility through a technical lens ,identify potential costs and risks, and evaluate concepts to meet MARTA's goals. The results of this feasibility assessment will give MARTA the information they need to implement future-focused solutions to connect transit into east side BeltLine neighborhoods," said Grady Smith, Southeast Regional Transportation Planning Director at VHB.
VHB is providing transportation and engineering services to MARTA in support of Atlanta's expanding transit system in other areas, including transit station planning and community outreach in Clayton County and feasibility studies for a proposed transit hub in South Dekalb. VHB Transit & Rail leaders collaborate with clients across the U.S. to expand transportation networks to meet the challenges of tomorrow. For more information about expanding access to transportation in your community contact Grady Smith at gsmith@vhb.com.
Learn more about how VHB helps transit authorities and communities support growth »