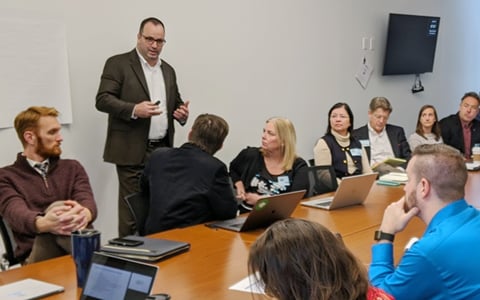 Advancements in technology are rapidly changing the way we live, work, and play. The AEC industry and our clients know that creating and embracing a "new normal" means integrating technology into the fabric of our projects, from creating interactive virtual meeting rooms for hybrid teams to laying the groundwork for electrical air taxi transportation via vertiports. Dave Mulholland thrives at this intersection of innovation and ideas.
Dave joined VHB in 2015 as Senior Vice President and Southeast Regional Manager. He sits on VHB's Executive Committee as well as its Board of Directors, and was recently appointed VHB Chief Technology Officer, a new position created to advance technology-enabled consulting and innovation throughout the company.
With data-informed technologies at the forefront of VHB's and our clients' work and home life now, we asked Dave to share his vision for advancing technology-enabled consulting at VHB and in the industry.
VHB: When we think of technology, we think of innovation, because technology is so often the vehicle that leads to major advances in our industry. Do you define innovation in similar terms?
Dave: When I'm speaking with groups, clients, or co-workers I hear many definitions and interpretations of innovation, but they all essentially cite two common factors: efficiency and change. I have to agree with this and will put my engineering hat on and say that innovation to me is the practical development and implementation of forward-thinking solutions that improve efficiency, enhance value, and embrace change. Practical is a key word, too. It's putting technology into play to positively affect people's lives.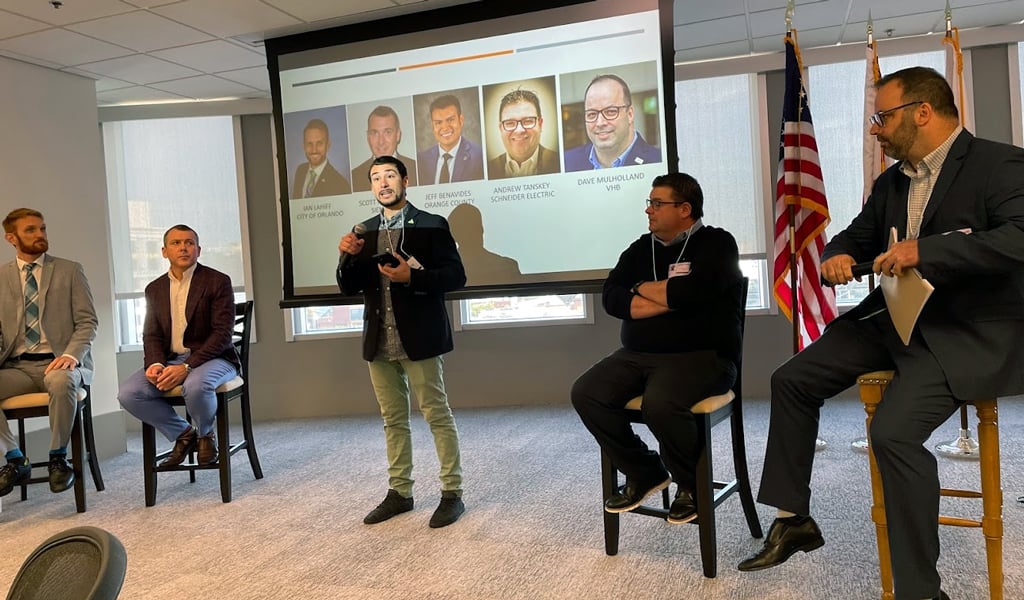 VHB: Given that definition, how is VHB leveraging technology to innovate?
Dave: Technology is woven through the fabric of our generational company. VHB leverages data and technology to elevate the services we provide across markets—we put innovation into practice for our clients. In a very broad way, we are harnessing big data to help clients make informed decisions on the prioritization of improvements and to evaluate systems more efficiently and improve accuracy. For instance, transportation agencies depend on VHB to innovate to make our roadways safer, and leveraging data from connected vehicles, cellular phones, and roadside units is a just one innovation. And it's just the tip of the iceberg of data's impact on innovation at VHB—and on the world, for that matter.
VHB: VHB was founded in 1979, and you joined six years ago. Has VHB's approach to technology and data changed in that time? In what way? What have we learned?
Dave: When I joined VHB in 2015, we were starting to build our 2020 Strategic Plan, which was a roadmap for where we wanted to be five years in the future (and beyond), and conversations around VHB and technology were emerging. What we knew and were focused on then was "it"—technology —was coming, and it would impact our clients. We needed to be prepared to embrace rapid advancements in technology and lead.
We made it an Imperative in our 2020 Strategic Plan: leverage technology to elevate the services we provide for our clients. Soon after, we created a technology-focused service line to support the growing needs of our clients, hiring Steve Anderson as our first technology service leader. The technology team grew in practice to more than 70 individuals (technology and security specialists, GIS professionals, analysts and software engineers, architects, and data scientists) across the footprint, serving clients in every market.
There are several things we learned since elevating technology at VHB. Mainly, innovation and technology are not going away. And, the rate of change is much faster than the AEC industry is accustomed to changing. I'm glad VHB felt that sense of urgency and got in front of the change quickly. We know there will continue to be both positive and negative disrupters in the industry—COVID-19 is exhibit A. VHB's approach to technology and data-informed solutions makes us well-positioned to lessen the negative impacts that may affect clients or the communities that we live in. And to boost the positive impacts for the greater good. One of my priorities is making certain we stay focused on technology as added value to our clients and identifying places where we can have an immediate and lasting impact. Every day I see examples of VHB embracing this, such as introducing model-based design to our energy clients to make electric substations more sustainable and lessening their impacts on the environment.
VHB: What influences have helped shaped VHB's foregrounding of technology and data? What are the key drivers?
Dave: Many things are shaping our commitment. First, the world we live in is changing rapidly, and the pandemic accelerated that rate of change. Second, our clients are asking for innovation. Because we understand big data, we are well-positioned to prioritize it as a solution to the challenges we face together. Data-informed decisions drive project and organizational success. Third, leadership is a key driver of advances in technology at VHB. VHB's Board of Director's made the commitment to elevate VHB as a thought leader in innovation by embracing technology-enabled consulting and data-informed decisions. As an added commitment, VHB established my position as Chief Technology Officer.
VHB: What do you think sets VHB apart from our competitors when it comes to how we leverage technology?
Dave: First and foremost, it's our integrated services approach to delivery. We work across markets, services, regions, states, and offices to collaborate on cross-industry innovations in data and technology. Our best minds are only a Teams message away. Also, we don't approach technology-enabled consulting as simply add-ons or widgets. We integrate technology and innovation to add value for our clients and enhance the services provided by VHB practice leaders. Because we approach projects as thought-leaders and collaborators, technology is integrated into the project life cycle from beginning to end. Finally, VHB's data management team is outperforming any competitor when it comes to data, analytics, and reporting. The technology we developed for Intersect during the early days of COVID-19 using GIS mapping and probe data is a great example of how we kept critical transportation projects moving with an integrated team of technologists and traffic engineers.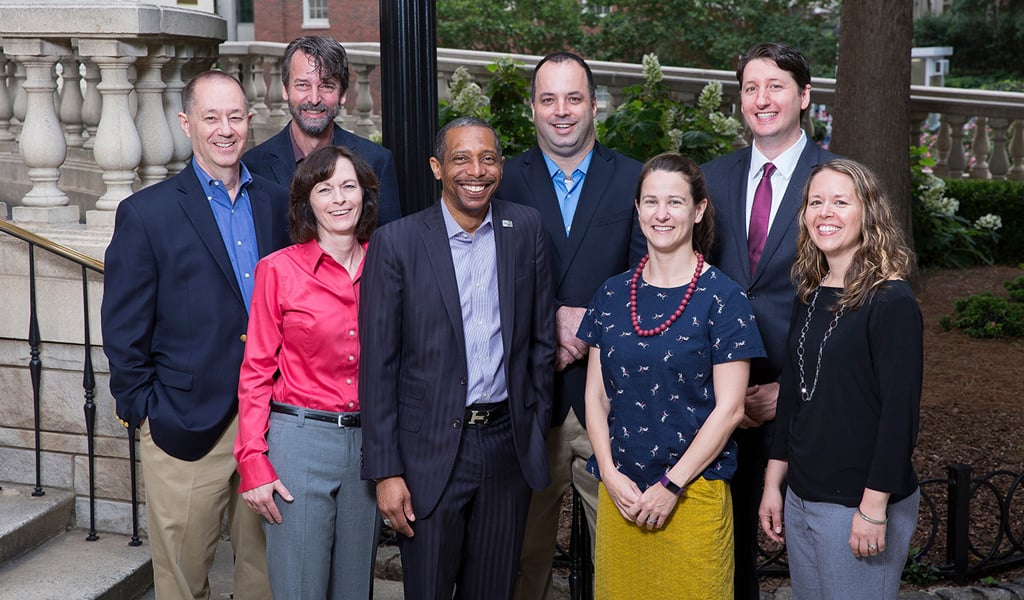 VHB: You keep referring to data as an integral part of this approach. How are we utilizing and leveraging data with our clients right now?
Dave: Yes, data is a hot topic in innovation now. But the use of big data to make data-informed decisions is not new to VHB. The exciting part about data is that as it evolves and becomes more readily available, we are positioned to move quickly to evaluate the benefits and turn it into user-friendly, powerful information systems of immediate impact.
One of the most visible ways VHB is leveraging data currently is through the wide range of electronic dashboards we've developed to help transportation clients make important decisions and streamline efficiencies. Our data dashboards for state agencies help evaluate and identify the severity of congested areas across wide swaths of our interstates. We've leveraged data to help prioritize operational bottlenecks and capital projects, and helped clients interpret data to future-proof decision making. As auto manufacturers continue to make advances in connected vehicle design, VHB is studying all the various data feeds coming off the vehicles from the different manufactures. And finally, VHB has digitized assets for clients and stored them electronically in our SAMIS asset management program to help clients holistically manage their systems.
Being a technology-enabled and data-informed organization means VHB manages and analyzes data for clients across all our markets and services. There is so much opportunity to innovate and make an impact that can positively transform communities.
Read Dave's insight into how technology affects our communities in VHB's thought leadership piece.