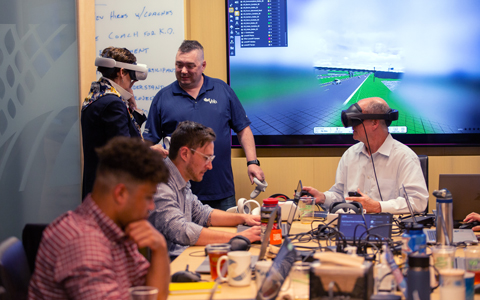 As technology continues to reshape how daily tasks are performed in all aspects of life, engineering is no exception to this evolution. While the fundamental elements of design may not have changed, technology continues to transform how we deliver projects. As a result, VHB recently launched a Model-Based Design (MBD) Advanced Training Program—one of the first in the industry and the largest training program undertaken by the firm. Recently, VHB recognized its first class of graduates that completed the 100-hour course.
This cutting-edge curriculum is preparing VHBers to train others and advance MBD as VHB's standard method for project delivery. By integrating tech-enabled concepts and MBD into project delivery across the firm, VHB is prepared to meet the increasing pace of the design process and better address client needs.
The 12-week program included intense technical training and practice sessions, topics on teaching and communication, and community building. Participants met for in-person collaboration, and the remaining time included self-paced learning activities, and one-on-one mentoring sessions.
To learn more about how VHB is advancing project delivery through MBD contact Kyle Rosenmeyer or Brianne Belschner.