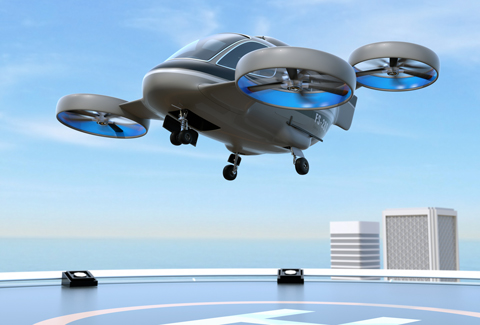 Great news for the future of air mobility in Florida: under the leadership of Orlando Mayor Buddy Dyer, the City of Orlando aims to become a national leader in embracing and advancing air mobility options, including emerging electric Vertical Takeoff and Landing (eVTOL) technologies and air taxi "vertiports."
As part of this effort, the city has forged two crucial partnerships – with VHB to create an Advanced Air Mobility (AAM) Transportation Plan and an exclusive aero-research partnership with NASA - National Aeronautics and Space Administration.
"As transportation options continue to evolve over time, the availability and accessibility of incorporating air taxis into a community's transportation network greatly increases," said Orlando Mayor Buddy Dyer. "As a future-ready city, the City of Orlando wants to be prepared to embrace these new transportation amenities that can enhance our regional connectivity and serve as a major backbone of our future transportation network."
On Friday, September 24, the city and VHB kicked off the AAM transportation planning process by convening transportation agencies, local governments and private stakeholders to discuss regional transportation and environmental challenges and opportunities.
The AAM planning process will take place over the next several months through a series of community workshops and will evaluate anticipated transportation, economic, environmental and community impacts associated with AAM through a regional connectivity plan. The input gathered through the planning process will help inform the equitable, safe and early advancement of air taxi vertiports in Orlando.
"The AAM Transportation Plan is a great example of what being a future-ready city means to Orlando," said Curt Ostrodka, Director of Community Planning for VHB. "The plan will help us to stay ahead of an innovative form of mobility, with input from a wide representation of community members. Through collaboration, we will be able to identify the regional transportation and environmental challenges and opportunities that could be impacted by AAM."
The City of Orlando was also recently selected to participate in an exclusive aero-research partnership with NASA which brings together the best and the brightest across the U.S. to provide insight and engage with research about integrating vertiports for vertical takeoff and landing aircraft in their regions.
Orlando was one of five entities, and the only city, selected by NASA for the partnership, which includes MassDOT, MnDOT, North Central Texas Council of Governments and Ohio DOT. The NASA partnership will continue with a series of workshops through summer of 2022.
These partnerships and the advancement of the city's AAM efforts align with the Orlando Future-Ready City Master Plan and Orlando's vision to become America's premier future-ready city by staying ahead of the city's opportunities, helping the City Beautiful remain a global destination where everyone can thrive.
The Orlando Future-Ready City Master Plan is a smart community road map that is helping the City Beautiful grow by leveraging data and new technology to enact future-ready, sustainable solutions that are co-created by the community and address energy, economy, and resiliency. VHB developed the Master Plan in partnership with the City and is supporting the plan strategies as Owner's Representative. Some strategies enacted as a result of the plan include a digital device and public wi-fi hotspot lending library for underserved communities.
For more information about the city's AAM efforts, visit Advanced Air Mobility - City of Orlando