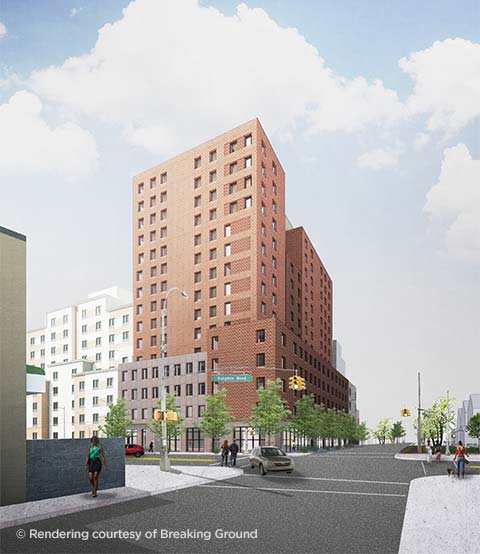 In keeping with its mission to provide affordable and supportive housing for homeless seniors, Breaking Ground is moving forward with a new 173-unit development located above an existing Community Healthcare Network (CHN) center, a co-applicant on the project. The new development, located at 97-04 Sutphin Road in Jamaica, Queens, has been certified into the Uniform Land Use Review Procedure (ULURP), kicking off a review process that will advance the project towards construction.
Situated just south of Long Island Railroad's Jamaica Station, residents will have access to a major transit hub and the City's international airports and rail lines. Access to the federally qualified health center currently located at the site, which serves Medicare and Medicaid patients, will continue in a newly built space on the building's ground floor and offer support services to residents. Above, 30 percent of the units will be occupied by formerly homeless seniors, with the rest of the units available for low-income seniors under the Affordable Independent Residence for Seniors (AIRS) program.
"We love working with Breaking Ground to support their commitment to housing those in need," said Alex Moscovitz, Project Manager. "Breaking Ground's passion to address social equity and the needs of underserved groups is what motivates us to advocate for these important projects, especially as we shepherd it through the public review process."
The VHB team also worked with Breaking Ground on the 90 Sands Street project, the conversion of a former Jehovah's Witness dormitory into a mix of 500 supportive and affordable housing units, with more than 300 units set aside for formerly homeless people. This project is currently under construction.
For more information, contact Northeast Real Estate Market Leader, David Quart: dquart@vhb.com